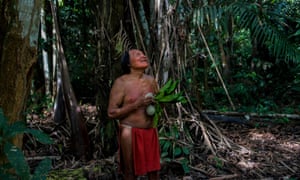 "
Dozens of gold miners have invaded a remote indigenous reserve in the Brazilian Amazon where a local leader was stabbed to death and have taken over a village after the community fled in fear, local politicians and indigenous leaders said. The authorities said police were on their way to investigate.
Illegal gold mining is at
epidemic
proportions in the Amazon and the heavily polluting activities of garimpeiros – as miners are called – devastate forests and poison rivers with mercury. About 50 garimpeiros were reported to have invaded the 600,000-hectare
Waiãpi
indigenous reserve in the state of Amapá on Saturday..."
Amazon gold miners invade indigenous village in Brazil after its leader is killed | World news | The Guardian