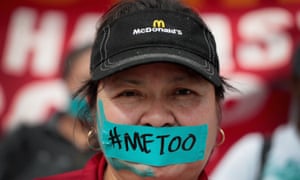 "When Teresa Cervantes entered her manager's office at a Chicago McDonald's, a different manager asked what she wanted, as Cervantes recounted in Spanish during a one-day strike of McDonald's workers, outside the Chicago corporate headquarters on Tuesday.
The manager asked if she was there for "pito" – a word for male genitalia – since Cervantes' boss was known for pressuring workers to have sex in the office or store bathrooms, said Cervantes, who worked at the city's famous Rock 'N' Roll McDonald's and other locations.
"I told her I'm not that kind of worker, I was just trying to be a responsible worker," requesting a schedule change since her two kids were starting school, she explained.
Workers who spoke at the rally – billed as a #MeToo moment for McDonald's – described sexual abuse, coercion and harassment as everyday occurrences in the restaurants. They said McDonald's has done little to address the problem, despite complaints filed with the federal Equal Employment Opportunity Commission (EEOC) on behalf of 15 workers in 2016 and 10 more filed earlier this year.
Workers at McDonald's in 10 cities nationwide walked off the job on Tuesday to demand that McDonald's address sexual abuse and harassment, including by forming a committee comprised of workers, corporate and franchise representatives, and national women's groups. Organizers said this was the first nationwide strike ever called specifically to protest sexual harassment.
"We're breaking our silence, we're making history," said Cervantes, whose daughter also works at McDonald's. "So youth will have a better future."
'I'm not on the menu': McDonald's workers strike over 'rampant' sexual harassment | Business | The Guardian