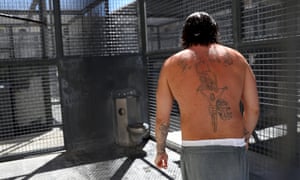 "Prisoners stand against forced labor and other indignities amid reports of action in California, Washington state and Nova Scotia

"A prison strike has begun to take hold in custodial institutions across North America, with reports of sporadic protest action from California and Washington state to the eastern seaboard as far south as Florida and up to Nova Scotia in Canada.
Details remain sketchy as information dribbles out through the porous walls of the country's penitentiaries. Prison reform advocacy groups liaising with strike organisers said Wednesday that protests had been confirmed in three states, with further unconfirmed reports emerging from Florida, Georgia, South Carolina and North Carolina.
The confirmed cases related to a hunger strike in Folsom state prison in California. A 26-year-old inmate called Heriberto Garcia managed to dispatch to the outside world a smartphone recording of himself refusing food. The video was then posted on Twitter.
When he was told the contents of the meal, Garcia could be heard replying: "Burritos or not, not eating today. Protest. I'm hunger striking right now."

The second confirmed action was in the Northwest detention center in Tacoma, Washington, where as many as 200 detained immigrants joined the nationwide protest. The Canadian unrest occurred in Halifax, Nova Scotia, where prisoners at Burnside jail put out a statement in solidarity with their striking US equivalents complaining that they were being "warehoused as inmates, not treated as human beings".

The 19-day strike is the first such nationwide action in the US in two years and was triggered by April's rioting in Lee correctional institution in South Carolina in which seven inmates were killed. The start of the strike on Monday was symbolically timed to mark the 47th anniversary of the death of the Black Panther leader George Jackson in San Quentin prison in California."

Major prison strike spreads across US and Canada as inmates refuse food | US news | The Guardian