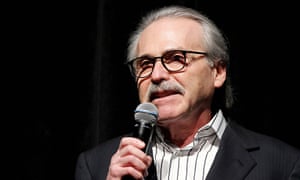 "David Pecker, chief executive of the company that publishes the National Enquirer, the tabloid magazine involved in hush-money deals to women ahead of the 2016 US presidential election, was granted immunity by federal prosecutors as part of the investigation into Donald Trump's former personal lawyer Michael Cohen, it emerged on Thursday.
Pecker met with prosecutors to describe the involvement of Cohen and Trump in payoffs to women who alleged affairs in the past with the president, the Wall Street Journal reported. Pecker, a longtime friend of Trump, was initially subpoenaed by federal investigators four months ago.
News of the media figure's help in an investigation that is likely to prove damaging to Trump's presidency came in the week that also saw Cohen turn on his former boss, as other former acolytes continue to assist the special counsel's parallel Russia inquiry in Washington, further embattling the White House.
The Enquirer, the often lurid tabloid that reportedly played a key role in shielding Trump from negative stories, has become deeply embroiled in the legal storm engulfing the White House. Experts predicted on Thursday that it could have its press protections stripped away..."
David Pecker: Trump confidant and National Enquirer boss was given immunity in Cohen case | Media | The Guardian