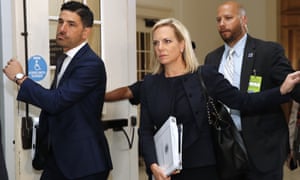 "The Trump administration on Thursday faces its court-imposed deadline to reunite 2,551 children it forcibly separated amid concerns from advocates and attorneys that parents were coerced into being deported without their children.
The US homeland security department (DHS) secretary, Kirstjen Nielsen, said the government was "on track" to meet the deadline, during a meeting on Wednesday with roughly 20 members of the Congressional Hispanic caucus.
Many of those present told the Associated Press that Nielsen's comment was met with open disbelief and anger. Representative Joaquin Castro, a Democrat from Texas, tweeted that Nielsen told the caucus: "I am not a racist. Nobody believes families should be separated."
The Trump administration is due to update the court on Thursday with the latest figures for how many families have been reunited. The count on Tuesday was 879 parents reunited with their children.
The government also said Tuesday that 463 parents had been deported without their children, alarming attorneys who doubt immigration authorities clearly explained to parents what they were agreeing to do."
Skepticism after US government says it's 'on track' to reunite 2,551 children | US news | The Guardian