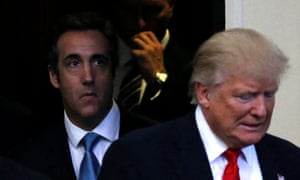 "A second former Trump campaign adviser, Sam Nunberg, said Cohen's decision to hire Washington power lawyer Lanny Davis made it clear he was looking for a deal.
"Any political person would know: the minute he signed Lanny Davis, it was over," said Nunberg. "He wants to make a deal or do what he feels is going to be best for him. He's no longer willing to take a bullet for Donald Trump."
The question of whether Cohen remains loyal to Trump is separate from the question of whether Cohen is approaching a deal with prosecutors. But Cohen's personal loyalties are still highly relevant and on Wednesday, Davis said those loyalties had shifted.
"Cohen is trying to reset his life as not being Donald Trump's bullet-taker, or worse, a punching bag for Donald Trump's defense strategy where he takes the bullets," Davis told NBC News. "This is a turn for him. It's a new resolve to tell the truth no matter what, even if it endangers him."
In the 1990s, Davis worked for Bill Clinton. In his Friday tweet, Trump called Davis "Bill and Crooked Hillary's lawyer" and asked: "Gee, I wonder if they helped [Cohen] make the choice!"
'Family and country first'
Cohen is facing potential charges of bank fraud, wire fraud and campaign finance violations in connection with a company he set up before the 2016 election to facilitate a payment to the pornographic film actor Stormy Daniels. Davis released an audio recording on Tuesday night in which Trump appears to suggest to Cohen that a payment to suppress the former Playboy model Karen McDougal's story be made in cash. Both women have alleged affairs with Trump which Trump has denied.
The Trump Organization's chief financial officer, Allen Weisselberg, has been subpoenaed to testify before a grand jury in the Cohen case, the Wall Street Journal reported on Thursday.
The legal pressure on Cohen could subside if he were able to reach a deal with prosecutors in which he would, the thinking goes, attest to activity by Trump or within the Trump Organization that prosecutors might use to prosecute a separate crime or crimes. Such a deal between Cohen and prosecutors could be very bad for Trump, analysts think."
Police Pulled 9-mm Gun On Ving Rhames At His Home In California | News One