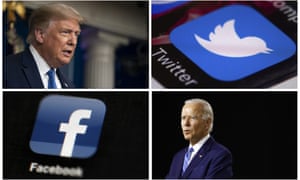 "
Donald Trump's presidential re-election campaign has repeatedly produced manipulated online content over the past week.
The Facebook ad read: "President Trump knows that the Fake News Media will NEVER report accurately on his standings in the polls against Sleepy Joe. We want the truth, and we need to hear it directly from REAL Americans, like YOU."
On Monday the campaign's Trump War Room Twitter account tweeted a manipulated video that appeared to show Biden saying, "You won't be safe in Joe Biden's America." The video was labelled "manipulated media" by Twitter.
The video was actually a clip of Biden quoting the Trump campaign.
"Trump and Pence are running on this and I find it fascinating: Quote, 'You won't be safe in Joe Biden's America.' And what's their proof? The violence we're seeing in Donald Trump's America," Biden said in the original quote.
Biden's campaign also responded to the manipulated clip on Twitter though a senior adviser, Symone Sanders.
Barkan aggressively called out the ad and demanded it be taken down. Twitter flagged it as well and Scalise's office eventually complied."
Donald Trump campaign repeatedly doctoring videos for social media ads | US news | The Guardian