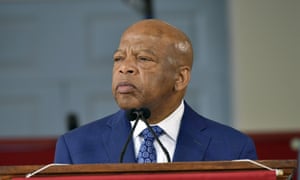 "John Lewis, US civil rights hero and Democratic congressman, dies at 80
Lewis helped Martin Luther King organise the March on Washington in 1963 and once suffered a broken skull at the hands of state troopers
Sat 18 Jul 2020 07.28 EDTFirst published on Sat 18 Jul 2020 00.04 EDT
wis, who has died at the age of 80.
Congressman John Lewis, who has died at the age of 80. Photograph: Paul Marotta/Getty Images
John Lewis, the civil rights hero and Democratic congressman, has died at the age of 80.
John Lewis obituary
On Friday night, House Speaker Nancy Pelosi confirmed Lewis had died. He had been suffering from pancreatic cancer.
Barack Obama, the first African American president, said Lewis "loved this country so much that he risked his life and his blood so that it might live up to its promise".
Lewis campaigned for civil rights to the very end of his life. Obama also said it was "fitting that the last time John and I shared a public forum was at a virtual town hall with a gathering of young activists who were helping to lead this summer's demonstrations in the wake of George Floyd's death."
Born to sharecroppers in Troy, Alabama in February 1940, Lewis became a prominent leader of the civil rights movement in the 1960s. He joined the Freedom Rides that began in 1961, traveling to the segregated south by bus to fight segregation on interstate buses.
A founding member of the Student Nonviolent Coordinating Committee, he became its chair in 1963 and helped organise the March on Washington, when Martin Luther King Jr delivered his "I have a dream" speech.
Lewis was the youngest and last survivor of the "Big Six" civil rights activists, a group led by King. When he attended Obama's inauguration in January 2009, he was the last surviving speaker from the March on Washington. Obama presented Lewis with a commemorative photograph signed "Because of you, John. Barack Obama." In 2011 he awarded Lewis the presidential medal of freedom."
John Lewis, US civil rights hero and Democratic congressman, dies at 80 | US news | The Guardian