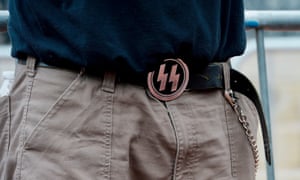 "
F
or decades, the Federal Bureau of Investigation has routinely warned its agents that the white supremacist and far-right militant groups it investigates often have links to law enforcement. Yet the justice department has no national strategy designed to protect the communities policed by these dangerously compromised law enforcers. As our nation grapples with how to reimagine public safety in the wake of the protests following the police killing of George Floyd, it is time to confront and resolve the persistent problem of explicit racism in law enforcement.
The 2006 assessment addresses this concern, however, by summarizing supreme court precedent on the issue: "Although the First Amendment's freedom of association provision protects an individual's right to join white supremacist groups for the purposes of lawful activity, the government can limit the employment opportunities of group members who hold sensitive public sector jobs, including jobs within law enforcement, when their memberships would interfere with their duties."
More importantly, the FBI's 2015 counter-terrorism policy, which McGarrity was responsible for executing, indicates not just that members of law enforcement might hold white supremacist views, but that FBI domestic terrorism investigations have often identified "active links" between the subjects of these investigations and law enforcement officials. But its proposed remedy is stunningly inadequate. It simply instructs agents to protect their investigations by using the "silent hit" feature of the Terrorist Screening Center watchlist, so that police officers searching for themselves or their white supremacist associates could not ascertain whether they were under FBI scrutiny.
Law enforcement officials actively affiliating with white supremacist and far-right militant groups pose a serious threat to people of color, religious minorities, LGBTQ people and anti-racist activists. But the police response to nationwide protests that followed the murder of George Floyd in May 2020, includes a number of law enforcement officers across the country flaunting their affiliation with far-right militant groups.
Law enforcement agencies must do more to strengthen their anti-discrimination policies, improve applicant and employee screening, establish reporting mechanisms, and protect and reward officers who report their colleagues' racist misconduct.
Prosecutors also have an important role in protecting the integrity of the criminal justice system from the potential misconduct of explicitly racist officers. Prosecutors keep a register of law enforcement officers whose previous misconduct could reasonably undermine the reliability of their testimony and need to be disclosed to defense attorneys. This register is often referred to as a "Brady list".
My 1992 undercover investigation didn't reveal any connections between the neo-Nazi bombmakers and weapons traffickers and law enforcement. In fact, the local law enforcement officers that worked with me on the investigation were consummate professionals who I literally trusted with my life. There are many more just like them.
But, however small, the presence of active white supremacists in law enforcement must be treated as a matter of urgent concern. As Professor Johnson has argued, the criminal justice system "can never achieve its purported goal of fairness while white supremacists continue to hide within police departments".
The FBI warned for years that police are cozy with the far right. Is no one listening? | Mike German | Opinion | The Guardian