Revealed: Senate investigation into Brett Kavanaugh assault claims contained serious omissions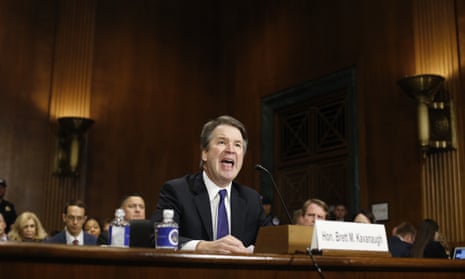 "A 2018 Senate investigation that found there was "no evidence" to substantiate any of the claims of sexual assault against the US supreme court justice Brett Kavanaugh contained serious omissions, according to new information obtained by the Guardian.
The 28-page report was released by the Republican senator Chuck Grassley, the then chairman of the Senate judiciary committee. It prominently included an unfounded and unverified claim that one of Kavanaugh's accusers – a fellow Yale graduate named Deborah Ramirez – was "likely" mistaken when she alleged that Kavanaugh exposed himself to her at a dormitory party because another Yale student was allegedly known for such acts.
The suggestion that Kavanaugh was the victim of mistaken identity was sent to the judiciary committee by a Colorado-based attorney named Joseph C Smith Jr, according to a non-redacted copy of a 2018 email obtained by the Guardian. Smith was a friend and former colleague of the judiciary committee's then lead counsel, Mike Davis.
Smith was also a member of the Federalist Society, which strongly supported Kavanaugh's supreme court nomination, and appears to have a professional relationship with the Federalist Society's co-founder, Leonard Leo, whom he thanked in the acknowledgments of his book Under God: George Washington and the Question of Church and State.
Smith wrote to Davis in the 29 September 2018 email that he was in a class behind Kavanaugh and Ramirez (who graduated in the class of 1987) and believed Ramirez was likely mistaken in identifying Kavanaugh.
Instead, Smith said it was a fellow classmate named Jack Maxey, who was a member of Kavanaugh's fraternity, who allegedly had a "reputation" for exposing himself, and had once done so at a party. To back his claim, Smith also attached a photograph of Maxey exposing himself in his fraternity's 1988 yearbook picture.
The allegation that Ramirez was likely mistaken was included in the Senate committee's final report even though Maxey – who was described but not named – was not attending Yale at the time of the alleged incident.
In an interview with the Guardian, Maxey confirmed that he was still a senior in high school at the time of the alleged incident, and said he had never been contacted by any of the Republican staffers who were conducting the investigation.
"I was not at Yale," he said. "I was a senior in high school at the time. I was not in New Haven." He added: "These people can say what they want, and there are no consequences, ever."
The revelation raises new questions about apparent efforts to downplay and discredit accusations of sexual misconduct by Kavanaugh and exclude evidence that supported an alleged victim's claims.
A new documentary – an early version of which premiered at Sundance in January, but is being updated before its release – contains a never-before-heard recording of another Yale graduate, Max Stier, describing a separate alleged incident in which he said he witnessed Kavanaugh expose himself at a party at Yale.
It has previously been reported that Stier wanted to tell the FBI anonymously during the confirmation process that he had allegedly witnessed Kavanaugh's friends push the future judge's penis into the hand of a female classmate at a party. While Republicans on the Senate committee were reportedly made aware of his desire to submit information to the FBI, he was not interviewed by the committee's Republican investigators.
The committee's final report claimed there was "no verifiable evidence to support" Ramirez's claim.
It is not clear how the film's director, Doug Liman, obtained the recording, or whom Stier was speaking to when it was recorded.
Stier, the chief executive of a Washington nonprofit who formerly served in the Clinton administration, declined to comment to the Guardian.
He is married to Florence Pan, a prominent judge on the US court of appeals in Washington. Pan sits in the seat that was vacated by Ketanji Brown Jackson, the US supreme court justice, and is seen as a possible future candidate for the US high court.
Maxey adamantly denied any allegation that he exposed himself to Ramirez at any time. Asked if he had ever visited Yale at the time of the alleged incident, Maxey said he had visited his older brother, Christopher, who was an older student at Yale, on a limited number of occasions when he was a senior in high school, but that they had not attended any freshmen parties.
Maxey, a Republican activist, has gained prominence in conservative circles for his role in sharing a portable hard drive of data from Hunter Biden's laptop with members of the media, including the Washington Post. When he was reached by the Guardian, Maxey said he was in Europe and claimed he had "just" given the hard drive to Viktor Orbán's government in Hungary.
Maxey has said he obtained the hard drive from Rudy Giuliani. He previously worked as a researcher for Steve Bannon's War Room podcast but the two have since had a falling out.
While Maxey seemed in his interview with the Guardian to have been annoyed that Smith – whom he said he didn't know or recall interacting with – named him in an accusatory email, he also separately defended Kavanaugh, who he said had behaved like a "choir boy" while attending Yale.
Smith's email arrived in Davis's inbox six days after the New Yorker first published details of Ramirez's accusation. In the article, Ramirez described how Kavanaugh had allegedly exposed himself drunkenly at a dormitory party, thrusting his penis in her face in a way that caused her to touch it without her consent in order to push him away. Ramirez, who was raised as a devout Catholic, described feeling ashamed, humiliated and embarrassed after the alleged assault, and recalled how Kavanaugh had allegedly laughed as he pulled his pants up.
Kavanaugh has denied the incident took place.
Ramirez, through a spokesperson, declined to comment.
Smith did not respond to several requests for comment.
It is not clear whether Smith, a Denver-based partner at Bartlit Beck, knew or had a relationship with Kavanaugh while or after both attended Yale as undergraduate students, or what prompted him to send Davis the email, which was an apparent attempt to clear Kavanaugh of suspicion.
According to his online biography, Smith attended the University of Chicago's law school after graduating from Yale and – like Kavanaugh – was part of the legal team that represented George W Bush in the 2000 presidential recount in Florida.
Redacted emails show that Smith also appears to have shared his accusation about Maxey with federal investigators. While the name of the accuser and the accused were redacted, records released by the FBI show that an individual made the exact same claim as Smith made to Davis to the FBI shortly after the email was sent to Davis. In it, the individual wrote: "I submitted this same information to a staff member of the Senate judiciary committee, Mike Davis, because I know him, and he suggested I also submit it to you."
Davis declined to comment. The Republican staff on the Senate judiciary committee declined to respond to a request for comment.
The FBI was at the time involved in its own review of sexual assault allegations against Kavanaugh. The investigation, conducted under FBI director Christopher Wray, another Yale graduate, has widely been derided as a "sham" by Democrats led by the Rhode Island senator Sheldon Whitehouse, a member of the Senate judiciary committee.
Whitehouse's office is expected to release a report into the FBI's handling of the Kavanaugh investigation by the end of this year."
Revealed: Senate investigation into Brett Kavanaugh assault claims contained serious omissions | Brett Kavanaugh | The Guardian