Murdoch's decision to drop Crikey defamation case is 'best case scenario' for everyone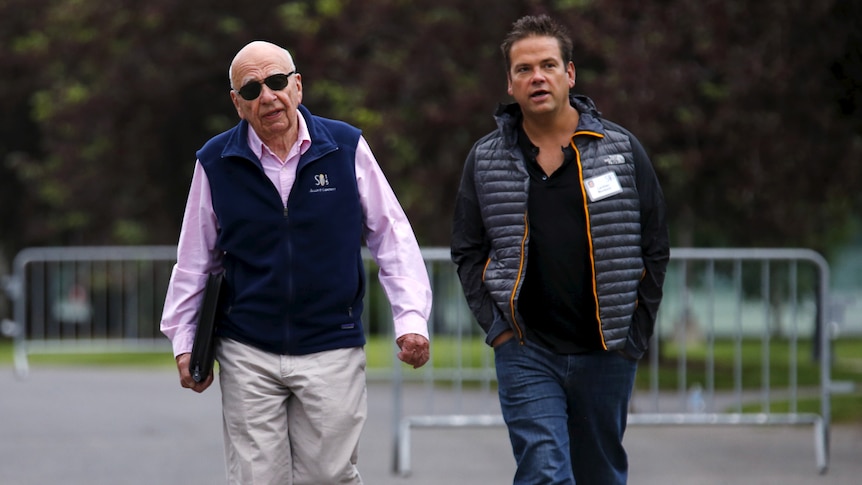 "It was touted as a "David v Goliath" defamation case pitting a small Australian outlet against the behemoth Fox Corporation.
Some thought it might expose the inner workings of the Fox News empire, but it wasn't to be.
The court battle between the Fox Corporation chief Lachlan Murdoch, and Private Media, the publisher of online news outlet Crikey, ended abruptly this week when Mr Murdoch dropped the case.
Crikey claimed this as a win, for them and for free speech.
Michael Douglas, senior lecturer at the University of Western Australia, said it was a win for everyone.
"This probably is the best-case scenario for both sides," Mr Douglas said.
"[Crikey] don't have to apologise, they don't have to take anything down, they don't have to pay any damages, and they're going to get a pile of money [for legal fees].
"Conversely, I don't think Lachlan Murdoch walks away that bad either."
Mr Murdoch claimed Crikey's June 2022 story, written by political editor Bernard Keane, defamed him.
The story referred to "the Murdochs" and Fox News as "unindicted co-conspirators" in the deadly January 6 riot.
Crikey's article was taken down after a concerns notice was sent by Mr Murdoch's legal team.
The defamation saga kicked off two months later, in August 2022, after Crikey republished the article, and publicly challenged Mr Murdoch to sue them, in an open letter in The New York Times.
Private Media maintained the story was not defamatory, and argued in court it was in the public interest.
Private Media's chief executive Will Hayward told the ABC on Friday that Crikey stood by its reporting.
"I think it's really important that in Australia, journalists have room to express good faith opinions, and they don't have to be terrified of litigious billionaires," he said.
The publication's associate editor Cameron Wilson said the independent news organisation never set out to make money, or antagonise Fox, as they geared up to fight a defamation case launched against them by Lachlan Murdoch.
"We crowdfunded our legal defence, and that money – if it's not used or legal fees – is going to charity," Mr Wilson told the ABC's The Drum.
"With Australia's defamation laws being stricter, of course we were concerned about that as a small company – but we believed it was correct and that's why it remains up until today."
Mr Murdoch's legal team claimed Crikey had a different agenda to public interest, accusing the outlet of having "contrived a scheme to improperly use the complaint by Murdoch about the article to generate subscriptions".
In documents filed to court, lawyers labelled this the "Lachlan Murdoch campaign", which they said was to "increase subscriptions" by claiming they had been dragged into a "David v Goliath battle".
Mr Murdoch's lawyer, John Churchill, said his client remained confident the court would "ultimately find in his favour", but no longer wanted Crikey to use the case to "facilitate a marketing campaign" to boost subscribers.
Costly week for Murdoch's Fox Corporation
This wasn't the only court case involving Fox News to make headlines this week.
It comes at the Mr Murdoch's legal team said this legal battle against Crikey, has no relation to a defamation case against Fox in the United States.
Earlier this week, on May 18, Fox settled a separate defamation case brought by Dominion Voting Systems.
That case alleged Fox News damaged Dominion's brand, by spreading false claims of voter fraud after the 2020 US election.
The case was settled for $1.17 billion.
Lawyers for Crikey had recently tried to introduce documents from the Dominion matter to use as part of their defence in the Australian court case.
Mr Churchill, acting for Mr Murdoch, claimed Crikey tried to use the case to suggest Fox News was responsible for causing the US Capitol Riots.
"In that case, in the US state of Delaware, the trial judge ruled the events of January 6, 2021, in the US Capitol, were not relevant," Mr Churchill said.
"Further, the plaintiff, Dominion Voting Systems, made clear it would not argue that Fox News caused the events of January 6, and at no point did it ever argue that Mr Murdoch was personally responsible for the events of January 6."
The media giant remains embroiled in other legal battles, including with another US voting technology company, Smartmatic, which is pursuing its own defamation lawsuit seeking $4.04 billion in damages.
Why dropping the case 'makes business sense'
The judge presiding over the case in Australia was yet to rule on whether the Dominion documents were relevant to this matter.
It would appear Mr Murdoch and his team weren't willing to take the risk.
Senior lecturer Mr Douglas said dropping the case against Crikey "makes sense from a business and political perspective".
He said material from the US case would be relevant here, and potentially damaging.
"A key benefit from making that settlement decision would be to avoid airing out all this dirty laundry of News Corp, including Murdoch's own dirty laundry, and so if this case were to continue in Australia, the whole point of settling that case… would be destroyed.
"He's going to have to pay a whole pile of money, but the man is not short on cash, so for him, he's come away with a bit of a victory too."
Mr Wilson confirmed that their legal team intended to "introduce the Dominion lawsuit in the US into [Crikey's] legal defence here".
When the defamation case was dropped, he "let out a big sigh of relief".
"I can tell you that as an employee, this hung over us – the fear that if the trial went the other way, it would affect us, we may not have jobs in the future."
Murdoch's decision to drop Crikey defamation case is 'best case scenario' for everyone - ABC News