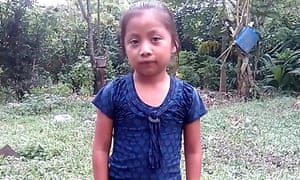 "
The family of the young Guatemalan girl who
died
in the custody of US border officials after crossing the border is disputing the American government's claim that she had not had food or water for days beforehand.
Anger is growing over the death of Jakelin Caal Maquin, seven, which emerged last week and immediately sparked uproar about harsh immigration and border policies being pursued by the Trump administration.
On Saturday, lawyers for the family released a statement insisting that the girl had been fed and hydrated and appeared to be in good health as she traveled through Mexico to the US southern border with her father, intending to seek asylum.
She had not been traveling through the desert for days, the family asserted, before being taken into custody by US officials along with many other migrants on 6 December. Jakeline
died less than two days later
, according to immigration officials."
Anger grows after death of Guatemalan migrant girl held in US | World news | The Guardian