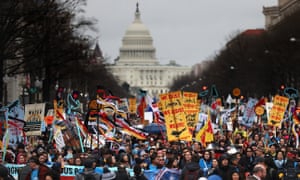 "The Trump administration's dismantling of environmental regulations has intensified a growing civil rights battle over the deadly burden of pollution on minorities and low-income people.
Black, Latino and disadvantaged people have long been disproportionately afflicted by toxins from industrial plants, cars, hazardous housing conditions and other sources.
Environmental Justice
But political leaders, academics and activists spoke of a growing urgency around the struggle for environmental justice as the Trump administration peels away rules designed to protect clean air and water.
"What we are seeing is the institutionalization of discrimination again, the thing we've fought for 40 years," said Robert Bullard, an academic widely considered the father of the environmental justice movement.
"There are people in fence-line communities who are now very worried. If the federal government doesn't monitor and regulate, and gives the states a green light to do what they want, we are going to get more pollution, more people will get sick. There will be more deaths."
A civil rights 'emergency': justice, clean air and water in the age of Trump | US news | The Guardian