Getting indicted by Fani Willis must be sending Donald Trump through the roof
"Willis has made it clear that Trump's status as a former president of the United States means nothing to her, and that she won't be intimidated by him.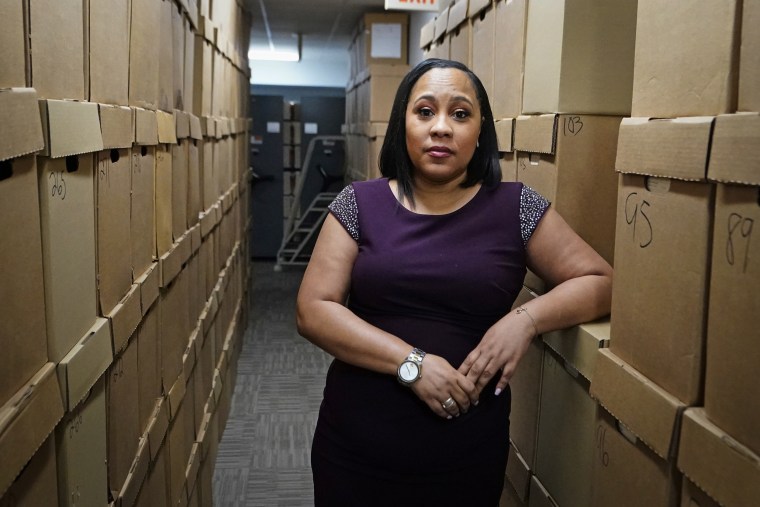 Monday was the fourth time this year that a prosecutor has persuaded a grand jury to indict former President Donald Trump of multiple crimes. This time, however, Fani Willis, the district attorney in Fulton County, Georgia, a Black woman, is in charge of the prosecution, and, given Trump's history of hurling virulent insults at Black women, the fact that Willis is leading the latest effort to convict him must be especially infuriating for him.
According to the 41-count felony indictment handed up Monday, an indictment that includes Trump and 18 others, the former president violated Georgia's RICO act and a grand total of 13 felonies as he worked to undo Joe Biden's victory in Georgia, a state that hadn't voted for a Democrat for president since Bill Clinton won there in 1992.
Willis isn't the only Black female prosecutor who has Trump fuming. New York Attorney General Letitia James has filed a $250 million lawsuit against the Trump Organization accusing it of fraud.
Though he's known for insulting people across the board, Trump seems to particularly enjoy targeting Black women. From Black women in politics — such as Vice President Kamala Harris and Democratic Reps. Maxine Waters of California and Fredricka Wilson of Florida — to Black women in the media — such as April Ryan and Abby Phillips — Trump has hurled a litany of insults over the years. He even called former White House staffer Omarosa Manigault Newman, the Black woman who once defended him against charges of racism, "a crazed, crying lowlife" and a "dog."
Relevant to this case, he targeted Wandrea "Shaye" Moss and Ruby Freeman — a Black mother and daughter who were working at a ballot-counting center in Fulton County — by making them the chief villains in his false claims of voter fraud in Georgia. Specifically, he referred to Freeman as a "hustler." That harassment led to death threats against them and forced Freeman to leave her home out of fear for her safety.
Trump has already had ugly things to say about Willis. Drawing from the nasty stereotype that Black women are sexually licentious and untrustworthy, he just made an especially nasty and baseless ad attacking her. Willis has called the ad "derogatory and false."
It is especially significant that Trump has consistently tried to humiliate Black women and that Black women are among those who are holding him to account.
Willis, the first woman to serve as district attorney in Fulton County, is a graduate of Emory Law School. She is in her first term as district attorney. During more than a decade as an assistant district attorney, she successfully prosecuted teachers and principals charged with illegally inflating standardized test scores in Atlanta's public schools. Willis faced major challenges as soon as she was elected. Not only did she inherit a backlog of time-sensitive cases that had been delayed by the pandemic, but she was still in her first week on the job when Trump's infamous call with Georgia Secretary of State Brad Raffensperger was leaked. That's the conversation in which Trump asked Raffensperger to "find" the additional 11,780 votes that would secure his victory in Georgia.
Willis opened her investigation shortly afterward and has appeared to be unfazed even in the face of threats. Beginning in May 2022, Willis empaneled a special grand jury to handle the investigation into Trump and his allies' actions in Georgia after the election, including fake electors who were willing to pretend Trump had won Georgia. Some of those fake electors have been given immunity in exchange for cooperating with Willis' investigation.
More from MSNBC Daily
Must reads from Today's list
Throughout this process, Willis has maintained her commitment that Trump's status as an ex-president does not shield him from justice. As she explained, "We actually live in a society where Lady Justice is blind, and that it doesn't matter if you're rich poor, Black, White, Democrat or Republican. If you violated the law, you're going to be charged."
This investigation has continued as felony counts against Trump rise — 34 from an investigation in Florida into his payment of Stormy Daniels; 40 in Florida that relate to his handling of classified documents; and four from his actions during the Jan. 6 attack on the U.S. Capitol. The Fulton County grand jury was impaneled on July 11, and now Trump must prepare for yet another trial.
The cheating scandal in Atlanta's school wasn't the only time Willis has used Georgia's Racketeer Influenced and Corrupt Organizations Act, a law designed to target organized crime. Willis is currently using it in a case that accuses hip-hop artist Young Thug of gang-related activity. And now she's prosecuting Trump and his allies with a similar approach.
As someone who aims to root out organized crime, Willis is following in the footsteps of Eunice Hunton Carter, the granddaughter of enslaved African Americans who helped special prosecutor Thomas Dewey convict Charles "Lucky" Luciano, one of the best-known Mafia figures at the time. In part because of Carter's investigative work and professional acumen, Luciano served nearly 10 years in prison and was then deported to Italy.
Willis is positioned to influence this country's history in a far more significant way. She could be responsible for convicting a former president of felonies something that, at least at this point, has never happened before.
Trump will likely hurl insults as he often does. But Willis has shown no signs of backing down, and she remains committed to sending the message that the rich and powerful are not immune from prosecution. Given everything he's said about powerful Black women, her convicting him wouldn't just be justice, it would also be poetic justice."
Fani Willis, Georgia's prosecutor in the Trump election case, is leading the indictment. Why this matters