(A traitorous savage), Donald Trump vows to lock up political enemies if he returns to White House
"Former president tells Glenn Beck he would have 'no choice' but to lock up opponents 'because they're doing it to us'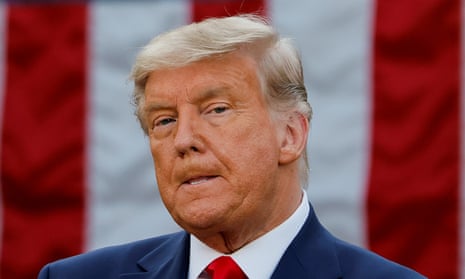 Donald Trump says he will lock up his political enemies if he is president again.
In an interview on Tuesday, the rightwing broadcaster Glenn Beck raised Trump's famous campaign-trail vow to "lock up" Hillary Clinton, his opponent in 2016, a promise Trump did not fulfill in office.
Beck said: "Do you regret not locking [Clinton] up? And if you're president again, will you lock people up?"
Trump said: "The answer is you have no choice, because they're doing it to us."
Trump has encouraged the "lock her up" chant against other opponents but he remains in considerable danger of being locked up himself.
Under four indictments, he faces 91 criminal charges related to election subversion, retention of classified information and hush-money payments to a adult film star. He denies wrongdoing and claims to be the victim of political persecution. Trials are scheduled next year.
Earlier this month, Politico calculated that Trump faced a maximum of 641 years in jail. After the addition of 13 racketeering and conspiracy charges in Georgia, Forbes uppedthe total to more than 717 years.
Trump is 77.
Both sites noted, however, that if convicted, the former president was unlikely to receive maximum sentences. Nor would convictions bar Trump from running for president or being elected. On that score, Trump dominates national and key state polling regarding the Republican presidential nomination.
In his Tuesday interview on BlazeTV, Trump also said he "never hit Biden as hard as I could have" while in office.
Trump's first impeachment concerned attempts to find dirt on rivals including Biden, related to politics and business in Ukraine. Now, in Congress, Trump's Republican allies are threatening to impeach Biden over unsubstantiated allegations connected to his surviving son, Hunter.
Trump told Beck that Biden was behind the indictments against him. In fact, all were brought by prosecutors independent of the White House: 44 by the justice department special counsel Jack Smith, 34 by the Manhattan district attorney, Alvin Bragg, and 13 by Fani Willis, the district attorney of Fulton county, Georgia.
Trump also claimed "the woman that I never met, that they accused me of rape, that's being run by a Democrat, a Democrat operative, and paid for by the Democrat [sic] party".
That was a reference to civil claims brought by E Jean Carroll, a writer who says Trump sexually assaulted her in New York in the 1990s. Earlier this year, Trump was found liable for sexual abuse and defamation and fined about $5m. A second trial is due next year. The judge in the case has said Trump has been adjudicated a rapist.
Also facing investigations of his business affairs, Trump said Democrats and other opponents were "sick people … evil people".
The twice impeached, four times indicted, 91 times charged ex-president also told Beck he "always had such great respect for the office of the president and the presidency".
I hope you appreciated this article. Before you move on, I was hoping you would consider taking the step of supporting the Guardian's journalism.
From Elon Musk to Rupert Murdoch, a small number of billionaire owners have a powerful hold on so much of the information that reaches the public about what's happening in the world. The Guardian is different. We have no billionaire owner or shareholders to consider. Our journalism is produced to serve the public interest – not profit motives.
And we avoid the trap that befalls much US media – the tendency, born of a desire to please all sides, to engage in false equivalence in the name of neutrality. While fairness guides everything we do, we know there is a right and a wrong position in the fight against racism and for reproductive justice. When we report on issues like the climate crisis, we're not afraid to name who is responsible. And as a global news organization, we're able to provide a fresh, outsider perspective on US politics – one so often missing from the insular American media bubble.
Around the world, readers can access the Guardian's paywall-free journalism because of our unique reader-supported model. That's because of people like you. Our readers keep us independent, beholden to no outside influence and accessible to everyone – whether they can afford to pay for news, or not.
If you can, please consider supporting us just once from $1, or better yet, support us every month with a little more. Thank you."
Donald Trump vows to lock up political enemies if he returns to White House | Donald Trump | The Guardian