'Lack of respect': outcry over Amazon employee's death on warehouse floor
"Work carried on as usual in the facility as workers were not informed of colleague's death even as the body lay on the floor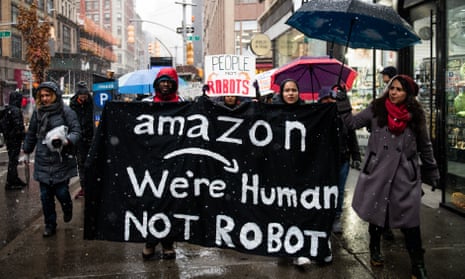 On the morning of 27 December 2022 at the Amazon DEN4 warehouse in Colorado Springs, Colorado, 61-year-old Rick Jacobs died on the job after experiencing a cardiac event, right before a shift change. What happened next has angered his former colleagues.
Witnesses say a makeshift barrier around the deceased worker using large cardboard bins was used to block off the area on the outbound shipping dock where the incident occurred, and workers criticized the response and lack of transparency about the incident. Amazon denied boxes were used to cordon off the area, but said managers stood around to make sure no one came near for privacy and security.
As workers arrived for their day shift, they say they were not notified about what was going on and continued working as usual while a deceased colleague remained in the facility and emergency responders awaited the arrival of a coroner.
"Finding out what had happened after walking through there had made me feel very uncomfortable, as there is a blatant disregard of human emotions at this facility. Management could have released those employees affected by offering [voluntary time off], so that they did not need to use their own time, but nope, that did not happen," said an Amazon employee at the warehouse who works the day shift. They requested to remain anonymous for fear of retaliation.
"No one should have been told to work alongside a dead body, particularly after witnessing it. Day shift comes in at 7am or 7.30am, and we were never informed until we arrived to where it had occurred. No warnings before walking into the building. No on-site counselor. Simply a flyer put out days later informing us of how to receive mental health counseling."
In a phone call, an Amazon spokesperson said Health Insurance Portability and Accountability Act (HIPAA) laws and privacy concerns for the family of the deceased meant the company was not able to disclose details about the individual or the incident. They disputed claims that anyone was working near the body or that boxes were used to cordon off the area. They declined to comment on the record citing privacy and respect for the deceased.
Amazon did not follow up with a comment in regards to what, if any, protocols the company has for these incidents or what resources were provided to workers immediately after the event or subsequently.
Another worker at the Amazon warehouse said that when they arrived to work that morning there were police and fire trucks at the warehouse, but no explanation as to why. Later, she found out from colleagues that a worker had died on the previous shift.
"Instantly I was pissed that we're all business as usual and there's a human being lying dead in the outbound area and I have to hear about it in the break room," said the worker, who also requested to remain anonymous for fear of retaliation. "Why is it that we are still working as usual when someone is dead downstairs? I was angry that they think that our lives don't matter, that they're going to sweep me out of the way to get a package out."
Workers criticized the lack of transparency and the response from management, as they weren't provided any information until a week after the incident, and the lack of standard operating procedures for incidents such as these, given other worker deaths have occurred at Amazon warehouses before.
A week after the incident, the worker said management finally addressed it at a standup meeting on 4 January. They left feeling dissatisfied with the explanation and lack of responsibility taken from management.
"What gets me is the lack of respect for human life. We shut down for maintenance. Do you think we could not have had a little respect and shut down long enough to at least get the body out of the facility and clean up after him before people are milling around like nothing's happening?" the worker said.
"It's not the first death at an Amazon facility. Amazon is a huge corporation. There should be protocols. It doesn't matter if this is the first death or the 10th death. There should be protocols on how you handle that. Maybe while the investigation is going on, you don't let the day shift in, you postpone it until at least until the body's gone."
Numerous worker deaths have been reported at Amazon in recent years, including three deaths in New Jersey and one in Pennsylvania over summer 2022. Amazon has faced intense scrutiny over working conditions due to the company's high injury rates, mishandled human resource errors and high employee turnover.
Another worker at DEN4 said they were supposed to work the day after the incident, but used their personal time off after hearing about what happened from other workers.
"I refused to work due to circumstances and out of respect for the gentleman that had passed," the worker said. "It wasn't handled fairly at all."
'Lack of respect': outcry over Amazon employee's death on warehouse floor | Amazon | The Guardian