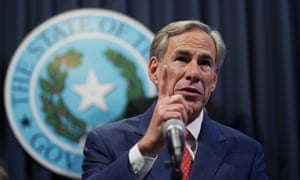 "Outrage as Texas governor orders closure of multiple ballot drop-off sites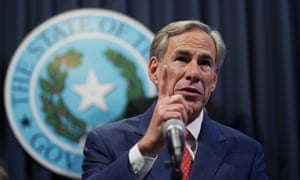 On Thursday, Abbott backtracked on his earlier order and issued a new executive order only allowing counties to offer voters a single place to return their ballots. Abbott's order also said officials had to let official poll-watchers inspect the process.
Harris county clerk Chris Hollins said the new proclamation issued by Abbott "will result in widespread confusion and voter suppression".
"Multiple drop-off locations have been advertised for weeks," Hollins said in a statement. "Our office is more than willing to accommodate poll watchers at mail ballot drop-off locations. But to force hundreds of thousands of seniors and voters with disabilities to use a single drop-off location in a county that stretches over nearly 2,000 sq miles is prejudicial and dangerous."
In an interview with the Guardian, Paxton said he opposes universal mail-in ballots, citing widespread voter fraud. Several studies and investigations have shown voter fraud is not a widespread problem.
"I think that's a wonderful utopia – people who don't want to commit fraud. Fraud is much more easily associated with mail-in ballots because we don't have any proof of who actually voted," Paxton said. "If you open the door, your vote doesn't matter as much. It's being diluted by fraudulent voters. You'd be giving up your vote by making it easier for everyone to mail in their ballot."
"Make no mistake, Democracy itself is on the ballot. Every Texan must get out and vote these cowards out!"
Outrage as Texas governor orders closure of multiple ballot drop-off sites | US news | The Guardian