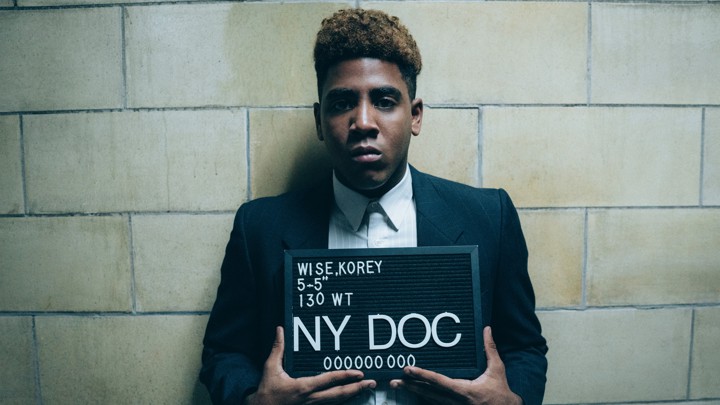 "Coverage of violent crime is a staple of American news, yet only a handful of stories capture the attention of the nation. Even fewer go on to inform the trajectory of American legal proceedings. The acclaimed filmmaker Ava DuVernay tackles one of the most significant criminal cases of the 1990s with her miniseries When They See Us, which premiered on Netflix on May 31. In four episodes, DuVernay provides the most complete account of the impact of the "Central Park Jogger" case on the lives of the defendants and their families.
On April 19, 1989, police found the body of a 28-year-old white woman in New York's Central Park. She was covered in blood and nearly dead after a brutal sexual assault. Trisha Meili, the injured party, was not the only victim of the night's horrific events. So, too, were Raymond Santana, Kevin Richardson, Korey Wise, Yusef Salaam, and Antron McCray—the kids, ages 14, 15, and 16, who were wrongfully convicted of her attack. Despite no DNA evidence, fingerprints, blood, or semen linking any of the black and brown boys to the crime, all five defendants grew up in prison, each one spending between six and 13 years behind bars.
When They See Us is primarily focused on the racist logic of the policing, court, and prison systems that cost the five defendants their childhood. The series also profoundly illuminates some inherent problems in American criminal justice from a range of perspectives. Viewers get an intimate glimpse of mothers, fathers, and siblings fighting for the freedom of their loved ones; law-enforcement authorities classifying these same boys as "animals"; and protesters on both sides holding signs, declaring It's Not Open Season on Women or The Real Rapist in Court Today Is the New York Police and the D.A.
Ultimately, the hysteria surrounding the Central Park Jogger case gave rise to new language about black-youth crime, and to new laws that caused more children to stand trial as adults than at any other time in American history. When They See Us gets the audience closer to understanding why juvenile and adult prison populations exploded through the 1990s, and how the United States became home to the largest incarceration system in the world.
A courtroom scene from When They See Us
Photo by: Atsushi Nishijima / Netflix
The series begins on the morning of April 19, introducing viewers to the five teenagers as they navigated an ordinary day in their Harlem neighborhood. McCray (played by Caleel Harris), a rising Little League star, discussed the Yankees with his father (Michael K. Williams). Richardson (Asante Blackk), a trumpet player, anticipated being named first chair as he walked home from school with his older sister. Meanwhile, Santana (Marquis Rodriguez) and Wise (Jharrel Jerome) seemed primarily occupied with impressing girls, as Salaam (Ethan Herisse) avoided a bully. By nighttime, the boys had entered Central Park together, along with 25 to 35 others—some of whom began throwing rocks at cars, harassing passersby, and beating up homeless people. When the police arrived, the crowd scattered. The officers managed to catch five boys during the chase, including Richardson and Santana, who were taken to the Central Park station for questioning.
Initially, the police prepared to charge the kids with unlawful assembly and refer them to the children's court system. But New York District Attorney Linda Fairstein (Felicity Huffman) and investigators quickly concluded that the boys instead were Meili's attackers and built a case around them, rather than conducting a full investigation. "Every young black male who was in the park last night is a suspect in the rape of that woman who is fighting for her life," Huffman's Fairstein says to NYPD officers. She called for the deployment of an "army of blue up on Harlem" and encouraged police to "stop every little thug you see."
The police, investigators, and the press dubbed the boys' actions in the park that night "wilding." Two days after the remaining three suspects had been arrested, the New York Post portrayed "wilding" as "packs of bloodthirsty teens from the tenements, bursting with boredom and rage, roam[ing] the streets getting kicks from an evening of ultra-violence." Soon the term became part of the national discourse, with the newscaster Tom Brokaw describing "wilding" as "rampaging in wolf packs and attacking people just for the fun of it" on NBC Nightly News. Peter Jennings of ABC named it "terror," plain and simple.
The concept of "wilding" and the racist assumptions behind it made it seem plausible to law-enforcement authorities and the public that black and brown boys' mischief could easily turn into violent rape. In When They See Us, viewers hear excerpts from the New York Post columnist Pete Hamill's April 23 account. "They were coming downtown from a world of crack, welfare, guns, knives, indifference, and ignorance," Hamill wrote, "and driven by a collective fury, brimming with the rippling energies of youth … they had only one goal: to smash, hurt, rob, stomp, rape." For Hamill, "wilding" was an expression of class and racial hatred. "The enemies were rich. The enemies were white." The implication was that "wilding" would destroy affluent, white New York if young black and brown boys and men were not severely punished. DuVernay reminds her audience that Donald Trump purchased $85,000 ads in New York City newspapers that screamed "BRING BACK THE DEATH PENALTY. BRING BACK OUR POLICE!"
Read: Ava DuVernay does true crime differently in 'When They See Us'
Five years later, the animalistic premise of "wilding" that When They See Us so vividly illuminates received academic treatment. In his definitive 1995 Weekly Standard essay, "The Coming of the Super-Predators," John DiLulio Jr.—then a politics and public-policy professor at Princeton—predicted that immediate demographic shifts would "unleash an army of young male predatory street criminals." These chiefly black and brown youths were, according to DiLulio, "so impulsive, so remorseless, that [they] can kill, rape, maim, without giving it a second thought." Politicians and the media seized on the "super-predator" idea, just as they had done with "wilding." Three months after the release of DiLulio's article, then–first lady Hillary Clinton famously called for authorities to bring "the kinds of kids who are called 'super-predators,' no conscience, no empathy … to heel."
Amid the "super-predator" frenzy, nearly every state passed laws that made it easier to punish children as young as 13 as adults and, in some cases, sentence them to life without the possibility of parole. In 1998 alone, roughly 200,000 youths were put through the adult court system, and the majority of them were black. Sixteen-year-old Korey Wise was the only Central Park Five defendant to be tried as an adult, and the fourth episode of When They See Us is mainly told from his perspective. With an exceptional performance by Jharrel Jerome—who plays Wise both as a boy and as an adult, and imbues the role with empathy—the episode exposes the horrors children experience when they are locked up with adults. In one scene, for instance, a Rikers Island guard helps two prisoners orchestrate a violent attack against Wise. The teen then chooses to enter solitary confinement for his own protection.
These practices went even further in the mid-1990s. Though Trump's 1989 call for the execution of the Central Park Five went unfulfilled, between the release of "The Coming of the Super-Predators" in 1995 and the Supreme Court's Roper v. Simmons decision, which outlawed the death penalty for juveniles in 2005, 62 percent of the children placed on death row across the U.S. were black or Latino.
But by the late 1990s, it became clear that DiLulio's "super-predators" were not, in fact, coming for blood. Youth violence had declined—not drastically increased—and a number of prominent criminologists discredited DiLulio's data. He apologized in 2001 for "any unintended consequences." A year later, after DNA evidence linked a serial rapist and murderer named Matias Reyes to Meili's attack, the New York Supreme Court vacated the Central Park Five's convictions. And in 2014, the court settled a civil case with the five men for $41 million. Nonetheless, the "super-predator" myth irrevocably altered the lives of McCray, Richardson, Salaam, Santana, Wise, and tens of thousands of youths and their families, with the proliferation of misguided state and federal policies.
Super-predator may now be seen as a dirty word (and indeed came to haunt Clinton during her 2016 presidential-election bid), but the "wilding" concept that emerged during the Central Park Jogger case is alive and well. The most recent usage came almost 30 years to the day of Meili's rape, on April 17, 2019, after a reported 500 black youths in Chicago descended on Millennium Park, allegedly stealing from and harassing tourists. The local news described their actions as "wilding." An official blamed "soft on crime" policies, warning of more "wilding" to come. As DuVernay's strongest work to date, When They See Us should inspire people to recognize that crime-control policies and the racist ideas behind them must change. Otherwise, the history of the Central Park Five is likely to repeat itself."
'When They See Us' Shows a Case's Impact on U.S. Policy - The Atlantic