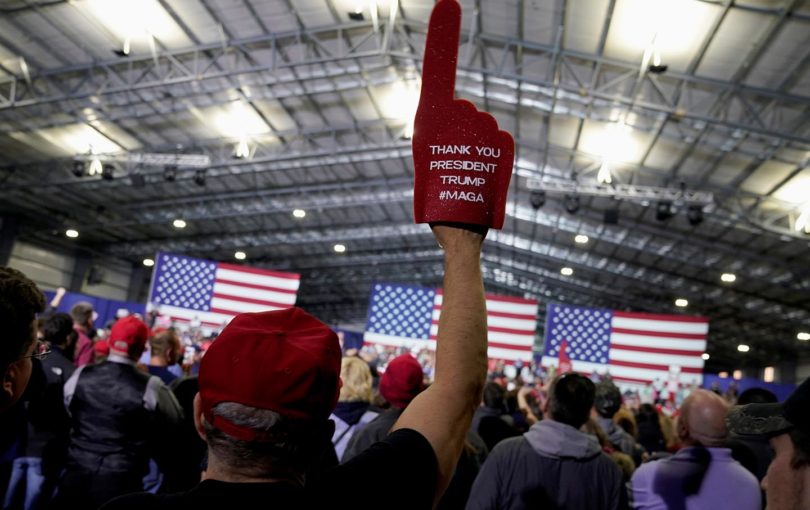 Has Donald Trump's relentless demagoguery of Mexicans, Muslims and African Americans made Americans more hateful? Or did Trump capitalize on a white backlash against the election of the first black president to put himself in the White House?
Shortly before the 2016 election, Schaffner randomly divided almost 1,200 non-Hispanic white respondents into four groups. He showed one, the control group, three relatively anodyne statements made by Donald Trump and Hillary Clinton during the course of the campaign. The second group was given the same three statements, and also shown an excerpt of Trump's infamous Mexican rapists speech. A third group saw a different inflammatory statement, "Our great African-American President hasn't exactly had a positive impact on the thugs who are so happily and openly destroying Baltimore." And the final group was shown all five.
Schaffner then asked respondents to say something in their own words about African-Americans, Mexicans, white people, politicians, the middle class and millennials. (One tricky part of conducting a study like this is you have to avoid tipping off your subjects about what you're looking for. So Schaffner presented the survey as an attempt to gauge how closely respondents were paying attention to the campaign. The inclusion of the middle class and millennials helped hide the purpose of the experiment.)
The results were surprising. Respondents who were exposed to Trump's comments about "thugs" in Baltimore weren't affected by that inflammatory statement to a significant degree, but those who read his tirade about Mexicans were. They made significantly more negative comments about the groups in question than those who only saw more conventional campaign rhetoric. Eight hundred people were recruited to rate the comments on a scale from "very negative" to "very positive," and Schaffner averaged out the results.
"The finding here that I think is really interesting," Schaffner told me, "is that Trump's language [about Mexicans] doesn't just embolden people to say more negative and more offensive things about the group he's talking about, but it actually leads them to say more offensive things about 
all
 groups." Schaffner thinks "this pattern is likely due to the fact that the quote about Mexicans is particularly offensive."
Interestingly, this "Trump Effect" was about equal for whites who backed Trump and those who supported Clinton.
It's hard to nail down precisely what mechanism is at work here. Schaffner considered the possibility that respondents were simply mimicking Trump's own words when they were fresh in their minds, but he was able to control for that possibility.
Schaffner's own explanation is that Trump is giving respondents tacit permission to be bigots. "People aren't always sure what the norms are in terms of what's OK and what's not OK to say," he says. "There have been several psychological studies showing that people tend to take cues from their peers when they're asked to talk about other groups. When they hear somebody saying something offensive about some group, then they basically say to themselves, 'oh, I can say that because this other person said it so it must be OK.' And I think something similar is going on here. People hear a politician who is running for president using this inflammatory terminology, and they think, 'well, if a major party's presidential candidate is using this language than it must be acceptable for me.' So I think people are changing their understanding about what the norms allow for, or preclude, based on what they're hearing from Trump."
It appears that both are true: Obama's election activated white voters' racial grievances and anxieties about being displaced by other groups. But it was Trump's nasty rhetoric that gave them permission to say what they might have kept quiet out loud – and in some cases, to act on those feelings.   
Yes, Donald Trump Is Making White People More Hateful | The Nation
: ""