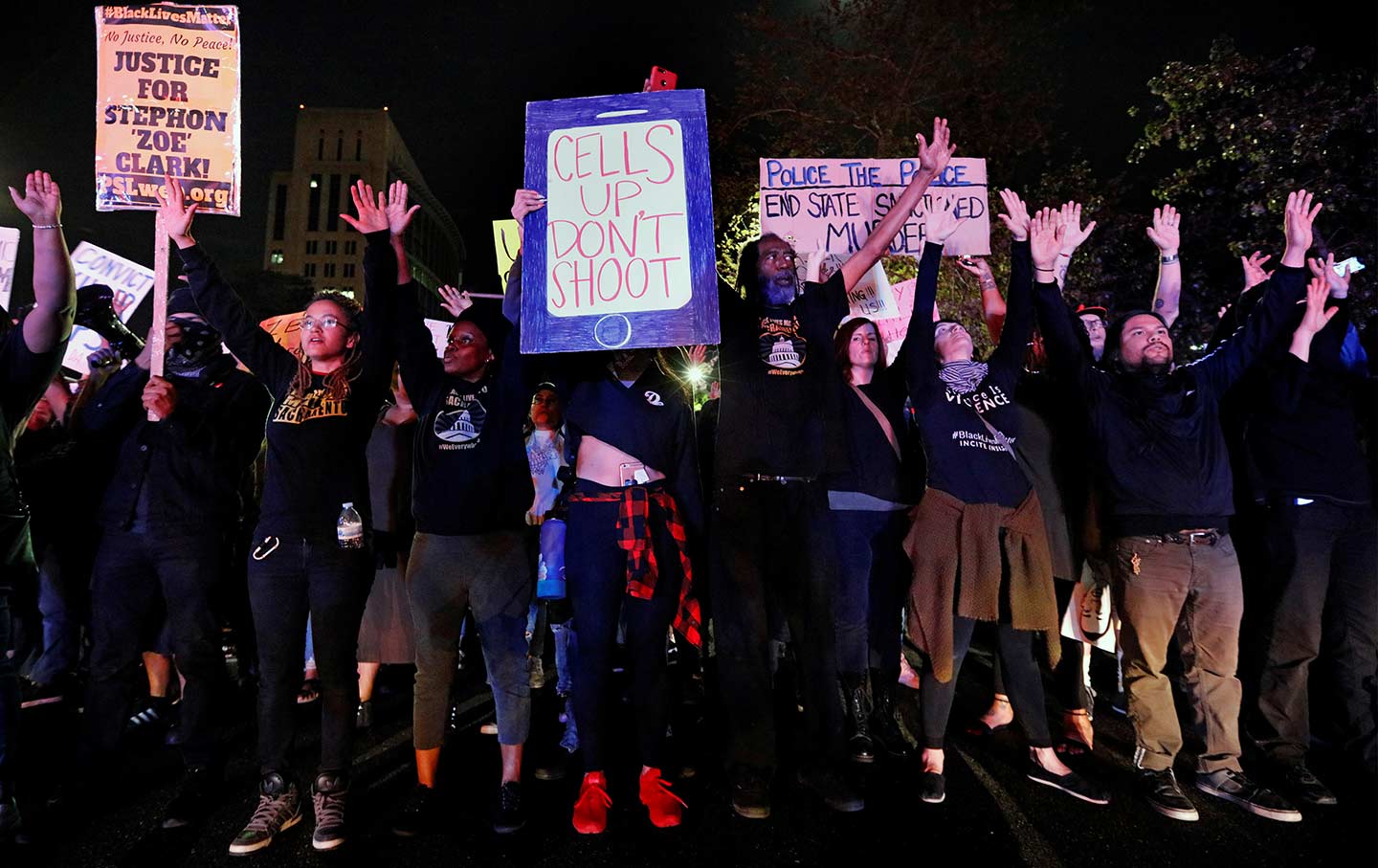 "When Sacramento police shot dead Stephon Clark on March 18, he was the 51st black man killed by cops in 2018. (An additional 15 have been killed since.) Officers Terrence Mercadal and Jared Robinet fired 20 bullets, seven of them hitting Clark in his back and side according to an independent autopsy conducted by his family. (The official police autopsy report released May 1 showed only three bullets entering his back.) The 22-year-old died in his grandmother's backyard clutching a cellphone that officers had misidentified as a gun.
Since his death, which was captured on video, activists across California have been demanding justice and accountability. Protesters have disrupted traffic, blocked access to Sacramento's multimillion dollar stadium, and, for the past month, rallied at District Attorney Anne Marie Schubert's office three times a week, prompting the prosecutor's office to install a temporary 10-foot fence.
Despite this pressure from demonstrators, state courts are likely to side with the police. If precedent holds, landing a conviction against the officers will be virtually impossible. The Supreme Court has ruled that cops can't be held criminally liable for shooting a suspect if they legitimately feared for their lives when they pulled the trigger—even if they misjudged the threat. In 2016, the Los Angeles Times reported that police in six southern California counties had shot more than 2,000 people since 2004, yielding only a single prosecution. The officer in that case was later acquitted.
In response to the public uproar, Democratic lawmakers Shirley Weber and Kevin McCarty announced a "first of its kind" bill in California that could raise accountability standards statewide by implementing stricter guidelines governing how and when officers may use lethal force. The legislation is aimed at making it easier to bring cases against law enforcement.
The Police Accountability and Community Protection Act (AB-931) would raise the current guideline from "reasonable force" to "necessary force," requiring officers take deadly action "only when it is necessary to prevent imminent and serious bodily injury or death" and if, given all circumstances, there was no reasonable alternative. Assemblymember Weber said lawmakers must ensure the state's policy "stresses the sanctity of human life."
According to UCLA law professor Joanne Schwartz the current standard of "reasonable force" affords police too much discretion. The language of the 1989 Supreme Court decision in Graham v. Connor, which forms the basis of many police departments' policies, has been interpreted to look at use of force in the split second it was delivered—not the totality of circumstances or whether it was necessary."
'Please Give Us Justice': New California Law Aims to Hold Police Accountable | The Nation