Trump to get schooled on judge's rules barring him from using evidence to slam witnesses
"The judge overseeing the Manhattan criminal case against Trump set the hearing for later this month to make clear that if the former president violates a prohibition on using evidence to attack witnesses, he risks being held in contempt.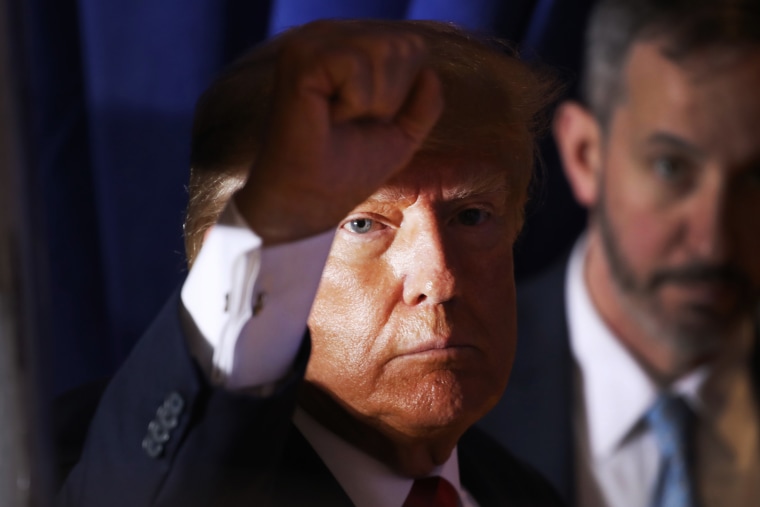 NEW YORK — Donald Trump was ordered Thursday to appear by video at a May 23 hearing in his Manhattan criminal case after a judge this week set rules barringhim from using evidence in the case to attack witnesses.
Judge Juan Manuel Merchan scheduled the hybrid hearing — the former president on a TV screen, his lawyers and prosecutors in court — to go over the restrictions with Trump and to make clear that he risks being held in contempt if he violates them.
The case is continuing in state court even as Trump's lawyers seek to have it moved to federal court. U.S. District Judge Alvin Hellerstein, who is considering the transfer request, issued an order this week setting paperwork deadlines and a hearing for late June.
Merchan, still in charge while that drama plays out, agreed to instruct Trump on the rules by video, rather than in person, after a prosecutor reminded him last week that bringing Trump to court would present mammoth security and logistical challenges.
Trump's April 4 arraignment, where he pleaded not guilty to 34 felony counts of falsifying business records, attracted a crush of media and protesters, involved multiple street closures, extra security screenings and shut down non-Trump court business for an afternoon.
"We'll setup the camera for Mr. Trump to appear wherever he is at that time and we'll do it here in the courtroom virtually," Merchan said.
Merchan issued what's known as a protective order on Monday, days after a hearing where he urged Trump's lawyers and prosecutors from the Manhattan district attorney's office to reach a compromise regarding the Republican's access to and use of evidence turned over by prosecutors prior to trial. That kind of evidence sharing, called discovery, is routine in criminal cases, and is intended to help ensure a fair trial.
Prosecutors sought the order soon after Trump's arrest, citing what they say is his history of making "harassing, embarrassing, and threatening statements" about people he's tangled with in legal disputes.
Merchan added Trump's virtual hearing to the court calendar a day after Trump appeared on a CNN forum and offered up a barrage of falsehoods, excuses and insults on a variety of topics, including what he deemed the "fake charge" of his criminal case.
Trump, found liable in a $5 million civil court verdict Tuesday for sexually abusing and defaming writer E. Jean Carroll, argued to CNN that "you can't get a fair trial" in New York City. He called Carroll a "whack job," characterized her claims that he assaulted her in the 1990s as "playing hanky-panky in a dressing room" and denied the allegations as a "fake story, made up story." He also criticized the judge in that case as a "horrible Clinton-appointed judge."
Merchan's protective order bars Trump and his lawyers from disseminating evidence to third parties or posting it to social media, and it requires that certain, sensitive material shared by prosecutors be kept only by Trump's lawyers, not Trump himself. Trump can review that material with his lawyers, but can't copy or photograph it, the order said.
Merchan, noting Trump's "special" status as a former president and current candidate, made clear at last week's hearing that the protective order shouldn't be construed as a gag order or a way of preventing Trump from speaking publicly about the case.
"I'm bending over backwards and straining to make sure that he is given every opportunity possible to advance his candidacy and to be able to speak in furtherance of his candidacy," Merchan said. "The last thing I want to do is infringe on his or anybody else's First Amendment rights."
Trump's criminal charges are related to payments his company made to his former lawyer, Michael Cohen. Prosecutors say those payments were intended to reimburse and compensate Cohen for orchestrating hush money payments during the 2016 campaign to bury allegations of extramarital sexual encounters.
Absent a move to federal court, Merchan expects the case to go to trial next February or March, meaning Trump could be stuck in court during next year's primaries."
Trump criminal trial judge set hearing on use of evidence rules