Man sues Giuliani over false arrest after 'pat' on back led to assault charge
"Daniel Gill seeks monetary damages for assault charges in 2022 after clapping mayor on back and saying: 'What's up, scumbag?'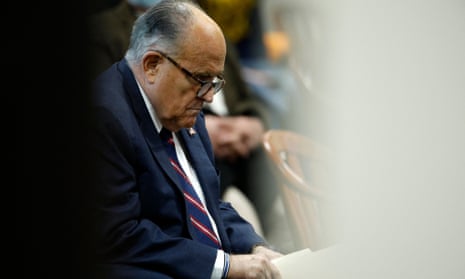 A heckler who was charged with assaulting Rudy Giuliani at a Staten Island grocery store last year has filed suit against the former New York City mayor and prominent Trump ally, alleging he levied an empty accusation.
The lawsuit filed by Daniel Gill in Manhattan federal court also names as defendants the city and several police officers.
It says they "participated in an unlawful conspiracy … to deprive [Gill] of his right to liberty, to his right to speak freely without retribution, and to be free from unreasonable seizures, in violation of his rights under the first, fourth and 14th amendments to the constitution of the United States."
Filed by the prominent civil rights attorney Ron Kuby, the civil action seeks monetary damages "for false arrest, civil rights conspiracy resulting in false arrest and false imprisonment, defamation, intentional infliction of emotional distress, and negligent infliction of emotional distress".
The Guardian contacted a Giuliani attorney for comment.
On 26 June 2022, Giuliani was campaigning with his son, Andrew Giuliani, a candidate for governor of New York – in what the new suit calls a "vanity run" – when Gill, a grocery store employee, walked past and clapped the former mayor on the back, saying: "What's up, scumbag?"
Giuliani, then 78, accused Gill of hitting him on the back – and said the feeling was like being shot or struck with a boulder.
In the words of Gill's lawsuit, "video footage captured the entire encounter. One person called 911 and [officers] arrived on the scene, followed by other NYPD officers."
Gill was arrested and spent more than 24 hours in jail before being arraigned on misdemeanor charges including third-degree assault.
Amid widespread outcry, the Legal Aid Society, which provides public defenders, said: "The charges facing Daniel Gill, who has no previous contact with the criminal legal system, are inconsistent with existing law.
"Our client merely patted Mr Giuliani, who sustained nothing remotely resembling physical injuries, without malice, to simply get his attention, as the video footage clearly showed.
"Mr Gill was then followed and threatened by one of Mr Giuliani's associates who allegedly poked Mr Gill in the chest and told him that he was going to be 'locked up'. He was then needlessly held by [New York police] in custody for over 24 hours.
"Given Mr Giuliani's obsession with seeing his name in the press and his demonstrated propensity to distort the truth, we are happy to correct the record on exactly what occurred over the weekend on Staten Island."
The current New York mayor, Eric Adams, also questioned Giuliani's account of the event, saying security footage didn't support it.
"Someone needs to remind former mayor Giuliani that falsely reporting a crime is a crime," Adams told reporters.
"When you look at the video, the guy basically walked by and patted him on the back. It was clear that he was not punched in the head. It was clear that it didn't feel like a bullet. It was clear that he wasn't about to fall to the ground."
Gill's charges were dismissed. Shortly after that, he filed a civil claim against the city, alleging false arrest.
His lawsuit against Giuliani comes at a time of growing legal woes for the former mayor.
On Monday, a former associate filed suit against Giuliani, seeking $10m and alleging "abuses of power, wide-ranging sexual assault and harassment, wage theft and other misconduct" including "alcohol-drenched rants that included sexist, racist and antisemitic remarks".
Noelle Dunphy alleges that Giuliani "often demanded oral sex while he took phone calls on speaker phone from high-profile friends and clients, including then-President Trump".
She also alleges Giuliani asked "if she knew anyone in need of a pardon", as "he was selling pardons for $2m, which he and President Trump would split".
Dunphy also claims Giuliani directed her to refer pardon-seekers to him, eschewing the "normal channels" of the justice department.
Giuliani also faces possible indictment over his leading role in Trump's attempt to overturn the 2020 election."
Man sues Giuliani over false arrest after 'pat' on back led to assault charge | Rudy Giuliani | The Guardian