DeSantis accused of 'catastrophic' climate approach after campaign launch
"Republican 'trying to out-Trump Trump' on climate, expert says, as governor says he rejects the 'politicization of the weather'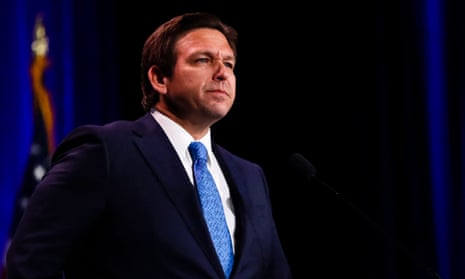 Ron DeSantis has been accused of a "catastrophic" approach to the climate crisis after he launched his campaign for US president by saying he rejects the "politicization of the weather" and questioning whether hurricanes hitting his home state of Florida have been worsened by climate change.
DeSantis, the Republican Florida governor who announced his bid for the White House via a glitch-heavy Twitter stream on Wednesday, has previously dismissedconcerns about global heating as "leftwing stuff" and he expanded upon this theme during a Fox News interview following his campaign launch.
"People tried to say when we had [Hurricane] Ian that it was because of climate change but if you look at the first 60 years from 1900 to 1960 we had more major hurricanes hit Florida than the 60 years since then," DeSantis told his interlocutor, the former Republican congressman Trey Gowdy.
"This is something that is a fact of life in the Sunshine state. I've always rejected the politicization of the weather."
Climate scientists have said that while it is true that hurricanes have not become significantly more frequent due to climate change, there is good evidence that the heating of the ocean, now at record levels, as well as the atmosphere is causing storms to rapidly intensify and become more powerful.
A study in the wake of Hurricane Ian, which pulverized roads and buildings in Florida last year, causing $112bn in damages and around 150 deaths in total in the US, found that climate change worsened the storm's extreme rainfall by around 10%.
Michael Mann, a climate scientist at the University of Pennsylvania, said that DeSantis's stance towards climate science is "classic projection".
"It is Ron DeSantis who is engaged in the 'politicization of the weather' by denying basic, established science – the intensification of tropical storms with human-caused warming of the oceans."
Mann added that DeSantis has favored fossil fuel interests over Florida's, a state acutely vulnerable to sea level rise and more powerful storms that has "been placed directly in harm's way by the devastating consequences of fossil fuel burning and the resulting warming of our planet".
Environmental groups have also taken aim at DeSantis over a record on climate they say is no better than Donald Trump's, his rival for the Republican presidential nomination.
While governor, DeSantis has adopted bills banning Florida's cities from adopting 100% clean energy goals and barred the state's pension fund from making investment decisions that consider the climate crisis due to what he called a corporate attempt to "impose an ideological agenda on the American people". He has also attacked the US military for being "woke" for warning about the national security risks posed by climate impacts.
"The cost of taking his anti-climate record to the national stage as president would be catastrophic," said Pete Maysmith, senior vice-president of campaigns for the League of Conservation Voters. "DeSantis has already made clear he would unleash his war on climate science, clean energy jobs, and strong pollution safeguards against clean air and clean water."
During his elections to Congress and to the Florida governor's mansion, DeSantis has taken more than $1m in campaign donations from the oil and gas industry, with his campaign committee receiving $2m just last year from Club for Growth, a conservative organization that successfully agitated for the US to withdraw from the Paris climate agreement when Trump was president.
"We need fossil fuels," DeSantis said at an event in March. "You can't just get rid of them unless you guys want to pay a lot more for energy."
However, the governor's supporters argue that he has forged strong environmentalist credentials in Florida, signing bills to beef up the state's resilience to sea level rise and pledging billions of dollars to restore the ailing Everglades, which has been besieged by agricultural development and, increasingly, climate change.
This record could have been the basis for a pragmatic alternative to Trump and help appeal to voters increasingly alarmed by rising temperatures, according to Bob Inglis, a former Republican congressman who now advocates for a conservative response to the climate crisis.
"He's done some things in Florida designed to address the problem of climate change, he could've been the post-Trump successful governor, the solver of problems," said Inglis.
"But instead he's choosing to be more of the anti-woke warrior than Trump. He's slugging it out in the Trump lane which is really a terrible mistake. I'm hearing from Republicans in Florida 'why is he choosing this path?'
"He could've said, 'Hey, we are dealing with this climate issue in Florida, let's lead the world on this.' Instead he's trying to out-Trump Trump."
Inglis said that while some senior Republicans fret they will lose out on a younger generation of climate-concerned voters, they still risk being beaten in primary races by candidates that back Trump's ongoing embrace of climate denialism.
"People like (House of Representatives speaker) Kevin McCarthy know that young conservatives want action on climate change and even if Trump wins he will be a lame duck by 2026 and the party could start moving on by then," said Inglis.
"The trouble is, the scientists say we don't have the time to wait for that. That really is the problem."
DeSantis accused of 'catastrophic' climate approach after campaign launch | Ron DeSantis | The Guardian