Voting rights groups say there's no time for complacency as restrictive laws take toll on a battleground state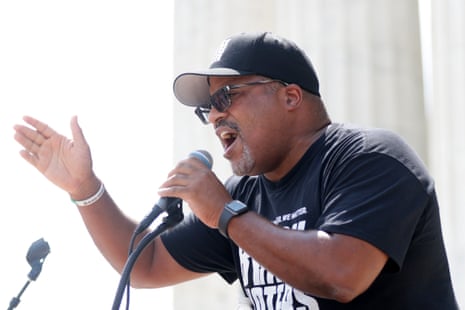 After mobilizing voters for several statewide elections last year, from the primary to the November midterm and then the December runoff, voting rights groups in Georgia say there's no time to rest. Organizers from New Project Georgia are hitting the streets and going door to door to register voters to continue expanding the state's electorate, building Georgia's growing influence on national politics.
Keron Blair, the group's chief field and organizing officer, is coordinating upwards of 50 organizers in an effort to accelerate voter expansion during this time when many voters become disengaged.
According to Blair, New Georgia Project is on track to register 40,000 new voters this year alone. Once they are registered, the group turns to engaging new voters and offering issue-based education to secure turnout for the 2024 presidential election.
"This work always continues," said Blair. "There are no off years, and we are hitting the soil so that when we call on our voters in these big moments, they have been educated enough to understand the significance of the moment, and they show up and deliver every single time."
Voting rights organizers throughout Georgia have built a robust multi-issue coalition over the last decade. Now, the organizations within this coalition are expanding their approach to voter engagement, seeking new ways to develop and strengthen the state's electorate and build momentum year-round.
One critical role of voting groups in the off year is to push back against new restrictive voting laws. Since the US supreme court gutted section 5 of the Voting Rights Act in 2013, a section designed to discourage discriminatory voting practices, hundreds of new voting laws have created restrictions. But the decision also inspired new voting rights advocates and organizations who work between election cycles to combat these changes.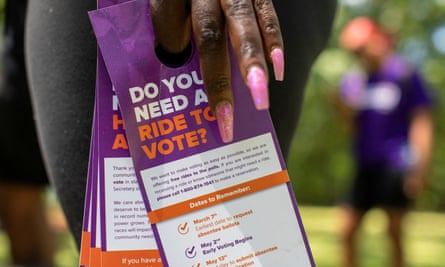 In Georgia, organizers like Cliff Albright, co-founder of Black Voters Matter Fund, are working around the clock to fight the new laws. Because the state is now considered a political battleground, there is a heightened tension between those seeking to expand access to the ballot and those seeking to restrict it.
"We can't just always be in a battle to just hold off voter suppression efforts during the election season," Albright said. "We have got to be thinking about: how do we even change the dialogue and go in the other direction of being more expansive and having more people with voting rights and more protections – in lieu of federal action that's not likely to happen in our current Congress."
Georgia's increasingly diverse electorate sent Democrats to the US Senate twice in the last two years and helped propel Joe Biden to the White House. Aunna Dennis, executive director of Common Cause Georgia, said Georgia's shifting political demographics made the work even more important.
"The power of the ballot matters so much and is so critical in Georgia because people don't realize that we are the battleground state of the south," she said. "Down goes Georgia, down go a lot of other states too."
Voting rights organizers say they are seeking new ways to expand their reach and build their capacity to enact change beyond the standard election season. However, with new laws like SB202 adding regulations to how advocacy organizations can interact with voters, it takes more work for organizers to strategize mass engagement efforts.
Black Voters Matter Fund and its voting coalition partners hosted large-scale voting parties near key polling locations during the midterm elections. They had to alter their typical approach offering support to voters waiting in line, because SB202 prohibited voter engagement in and around voting sites.
"Actions like this require additional capacity," said Albright. "We have to manage that and build that way in advance."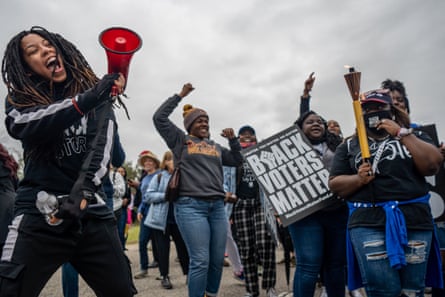 Beyond on-the-ground voter engagement, voting rights organizations must also respond to the need for increased voter education, employing year-round efforts to inform voters of legislative changes affecting voting rights.
"It's fundamentally the same as it's always been: reach out to voters and meet them where there are," said Albright. "But at the same time, it takes more work for education. It takes more to educate folks on the changes in the voting laws to prepare them for when the time comes [to vote]."
Dennis, of Common Cause Georgia, said the group was analyzing HB200, a new bill that would alter midterm elections in Georgia by introducing ranked-choice voting. Organizers are seeking to answer key questions including who will pay for the inevitable changes stemming from this potential legislation and the exact values needed for candidate victories in elections where ranked-choice voting is employed. Dennis says "getting in the weeds" of legislation helped the group better educate voters.
"No matter the time of year, it's about paying close attention to the laws impacting voters, taking the opportunity to gather the information that's going to impact their access, and working to keep their best interests in mind," said Dennis. "We are, of course, a hub for boots-on-the-ground work, but for us, the work is also getting our hands really wet with election reform work, like drafting legislation to create accessibility or even giving testimony, like we will for HB200."
For other voting rights organizations, maintaining open communication with voters, especially when there are no major elections, means a chance to look ahead and prepare for 2024. Blair at New Georgia Project believes smaller elections and political events like the State of the Union address offer key moments to raise voter awareness.
"When we connect voting and showing up as a single tactic to the longer strategy of winning change, we know that our voters will show up," said Blair. "Right now, we are still going door to door using current issues to educate, engage and organize so that when the time for major elections does come, we've already built up trust within our voters."