"Rescue efforts continue as UN warns hundreds of thousands of people urgently need food in wake of disaster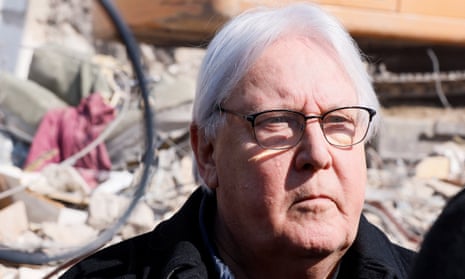 Twelve people detained over collapsed buildings in Turkey
Turkish police have detained 12 people over collapsed buildings in the southeastern provinces of Gaziantep and Şanlıurfa following the huge quake that hit Turkey, local media reported on Saturday.
Those taken into custody included contractors, DHA news agency said.
At least 6,000 buildings collapsed after a 7.8-magnitude tremor hit the region, killing more than 25,000 people, and sparking anger over the poor quality of housing, the news agency Agence France-Presse reports.
More detentions are expected after the public prosecutor in Diyarbakır, one of 10 southeastern provinces affected by the quake, issued arrest warrants for 29 people on Saturday, state news agency reported.
One of those detained on Saturday was a contractor for a building in Gaziantep, the agency said, adding he was found by police in Istanbul,
Several investigations have been launched by prosecutors in provinces, including Kahramanmaraş, where Pazarcık district was at the epicentre of the quake.
Turkey's justice ministry has ordered prosecutors in the 10 provinces to establish special "earthquake crimes investigation offices".
On Friday, Turkish police apprehended a contractor of a block of high-rise luxury flats that toppled over in Hatay province.
He was detained at Istanbul airport after reportedly trying to flee the country.
Madara Hettiarachchi of the Disasters Emergency Committee (DEC) spoke to the BBC earlier about what was needed for those affected by the earthquakes.
She said that cash was the most helpful contribution at this time:
We are so appreciative of the UK public here providing generous support to this incredible disaster overseas. The scale of the destruction is hard to get one's head around. People in Syria, people in Turkey, sleeping out in the elements, lost family, houses destroyed and damaged. We need to make sure that we keep the momentum to help the people in Turkey in Syria."
She added:
We would urge members of the public to go online, look at dec.org.uk, you can see what the DEC charities are doing and ensuring that money gets to the right place very quickly.

We urge the UK public to give cash. That's what's needed most at this time. Items are helpful, but it takes a lot of manpower to store and sort and the logistic challenge of getting items from here to Turkey or Syria is immense. Giving cash is a priority now so that aid workers on the ground can talk to the affected population, can talk to individuals and families and ensure people get what they need at that particular time. And is also obviously gives a boost to the local economy, which is much needed right now."