Dark arts of politics: how 'Team Jorge' and Cambridge Analytica meddled in Nigerian election
"Leaked messages show failed plan to discredit Muhammadu Buhari and get Goodluck Jonathan re-elected in 2015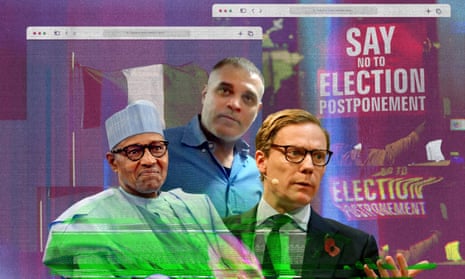 Four weeks before a pivotal presidential election in Nigeria, an Israeli private operative specialising in political "black ops" was preparing his trip to the country. On 17 January 2015 the man, who used the alias "Jorge", emailed Cambridge Analytica, the political consultancy he was coordinating with on a covert plan to manipulate Africa's largest democracy.
"Friends, hi, I will be on the ground tomorrow for couple days … Who is best to meet there[?]" he asked. "Low profile as we came in on a special visa and we are watched closely (which is part of our plan :) anyway we need better understanding of the current status, improve communication and coordinate plans, we want to run by you a couple things that we might execute if the stars align. so plz, in very limited circulation, who is best to meet, and whats his/her position, and contact info."
Jorge, or "J", as he signed off many of his emails, was operating separately to Cambridge Analytica. But his group was coordinating with, and working alongside, the British political consultancy, which shared a secret mission to help re-elect Nigeria's then president, Goodluck Jonathan.
On Wednesday, Jorge was unmasked by the Guardian and its media partners as Tal Hanan, a hacking and disinformation specialist operating from an industrial park 20 miles outside Tel Aviv. He calls his group "Team Jorge", and claims it has worked covertly on more than 33 "presidential-level" election campaigns on behalf of clients.
The reply to Hanan's email asking who to meet in Nigeria was sent by Brittany Kaiser, a young Cambridge Analytica employee who later featured prominently in the Netflix documentary The Great Hack, about the company's Facebook data scandal.
She copied in the firm's chief executive, Alexander Nix, and several other internal and external partners who would be coordinating with one another on the covert campaign to re-elect Jonathan and discredit his rival, the then opposition leader Muhammadu Buhari. "If you are on the ground please meet with SCL [Cambridge Analytica] Nigeria team," she told Hanan.
Kaiser, who was 26 and based in London, was far from the only person at Cambridge Analytica involved in email exchanges with Team Jorge over the Nigeria campaign. She told the Guardian that her "sales" role at the company meant that she was not involved in any "operational matters with Jorge" in Nigeria in 2015.
Cambridge Analytica and Team Jorge were, she said, working "separately but in parallel" in Nigeria for the same client. "I sent some emails to put everyone in contact with each other and sort out who was doing what as time was short."
The exchange was one of dozens of emails leaked to the Guardian and Observer that shed light on the covert coordination between Cambridge Analytica and Team Jorge in Nigeria. There is no suggestion that Jonathan knew of either Cambridge Analytica or Team Jorge's ultimately failed attempts to get him re-elected.
But the emails reveal the covert methods that were used to boost his electoral fortunes and the ways in which two teams specialising in the dark arts of political persuasion liaised with one another, with meetings in London, the Swiss resort of Davos and the Nigerian capital, Abuja. Communications appear to have occurred on encrypted Hushmail accounts, or special devices used for secure phone calls.
Perhaps most significantly, they provide the answer to a mystery that has endured since 2018, when the Guardian and Observer first reported how an "Israeli contractor" had supplied Cambridge Analytica staff working on the Nigerian election with confidential material apparently stolen from the Buhari campaign.
The report was subsequently discussed at length during a UK parliamentary inquiry. The identity of the unnamed Israeli contractor who purloined Buhari's confidential data has – until now – remained unknown.
Dark arts of political persuasion
Hanan appears to have been involved in the dark arts of political persuasion since 1999 without being detected. That changed on Wednesday, when the Guardian and other media outlets published undercover footage filmed by three reporters who met Hanan while posing as potential clients.
The trio captured Hanan as he gave presentations, slideshows and pitches about the election-influencing services that Team Jorge could deliver to people wealthy enough to afford them. The undercover footage records Hanan demonstrating hacking techniques to access Gmail and Telegram accounts to gain intelligence that could be used against a political adversary."
Dark arts of politics: how 'Team Jorge' and Cambridge Analytica meddled in Nigerian election | Nigeria | The Guardian