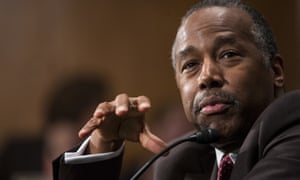 "Ben Carson, a neurosurgeon and the secretary of the Department of Housing and Urban Development, has defended massive cuts to his own agency , saying "we have to stop the bleeding if we're going to get healing".
Speaking before a Senate committee, he offered no objections to the budget proposed by the Trump administration, which envisions a funding reduction of $7.4bn compared to 2017, or almost 15%. In a surprising turn, Carson praised the work of a federal homelessness agency that the Trump budget eliminates.
Carson was asked how he would ensure collaboration between federal agencies, and in his answer he highlighted the work of the US Interagency Council on Homelessness, praising it as "effective".
It was unclear if he knew, or at least he did not mention, that Trump budget's does away with USICH. Susan Collins, the Republican senator from Maine, politely brought this up, adding that she regarded it as a "huge mistake".
Ben Carson hails homelessness agency that Trump budget would eliminate | US news | The Guardian