'This is how I'm going to die': police swarm activists protesting 'Cop City' in 'week of action'
"Hours of chaos as officers descended upon forest, seeking activists protesting $90m police and fire department training center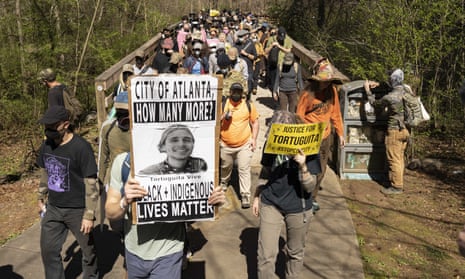 "Check their shoes and look for mud!" shouted one Atlanta police department officer to another.
The sun was setting against a tree line growing greener daily due to recent balmy, spring-like weather in Atlanta, but the bucolic setting of a Sunday in the sun at a free music festival abruptly became panic and chaos.
Dozens of law enforcement officers, many with automatic weapons, swarmed into a forest of hundreds of acres, seeking to find any of the 200 or so activists who had set fire to a bulldozer, trailer and other infrastructure used for construction on "Cop City", a $90m, 85-acre police and fire department training center, about an hour earlier.
The clash was just the latest dramatic chapter to hit the Cop City project, which has already seen one environmental activist shot dead by police – the first incident of its kind in the US – and drawn national and international attention to the fight to save the Georgia forest where the giant project is planned.
The one officer's frenzied order about dirty footwear seemed as absurd as any part of the Sunday night operation, since Georgia rains had left muddy patches all over the forest, and at least 600 people were lying on the grass, or camped among the trees, or entering the forest to catch an evening's music under the stars or leaving – thus many had mud on their shoes.
But such was the situation on Sunday night, on the second night of the fifth "week of action" by activists over the last year dedicated to protecting the land called South River forest on municipal maps and Weelaunee forest by activists – using the Muscogee (Creek) word for "brown water".
The scene included police running through trees, arresting a legal observer from the National Lawyers Guild, sending a negotiator to agree on terms with five randomly chosen individuals for letting about a hundred music festival audience members safely leave the forest, and detaining journalists for questioning on "what they were there to cover".
The first two days had included free music, herbal workshops and a peaceful march through neighborhoods surrounding the forest south-east of Atlanta. Then, around 5.30 on Sunday evening, about 200 activists, most in balaclavas and camouflage clothing, began lining up to the right of the stage. They marched around three sides of the audience, chanting "Viva Tortuguita" – a reference to Manuel Paez Terán, a 26-year-old activist who was camping several hundred feet away from that spot on 18 January when police shot and killed him in another raid. It was the first time police killed an environmental activist while protesting in US history. Authorities said that Paez Terán fired first.
After several hours of chaos on Sunday night, 23 people – including a legal observer with the National Lawyers Guild – had been arrested and charged with "domestic terrorism" under state law, adding to the 18 defendants facing the same unprecedented charges who have been arrested in recent months.
Police officers had also threatened to arrest the hundred or so people who were lolling about in the field and listening to music only hours earlier if some agreement couldn't be reached for their evacuation, said Jeff Simms, a retired federal endangered species biologist who was there.
Simms – who had come to the forest from Tucson, Arizona, to spend the week camping in the forest with his 21-year-old daughter, Alyssa – found the two of them thrust into unexpected positions as members of a five-person negotiating team on Sunday night.
Simms had watched dozens of police officers entering the forest from various sides and thought: "We're all going to jail."
He had spent one night camped in what is technically called Intrenchment Creek park. At least 85 acres of the forest is under threat from the construction of Cop City and another 40 acres is under threat from Ryan Millsap, former owner of Blackhall Studios, who made a deal with DeKalb county in 2020 to swap the land, in use as a public park, for another piece of land nearby. That deal is on hold due to a local environmental group's lawsuit, and residents of surrounding neighborhoods continue to use the park for recreation.
The two parts of the forest are divided by a stream, Intrenchment Creek. The pair of threats to the forest led dozens of "forest defenders" to camp in the woods on both sides of the creek starting in late 2021. After Tortuguita's death, hundreds recently began camping on the park side again – where all the arrests on Sunday were made.
On Sunday night, even as music continued on stage – mostly soft folk tunes, Simms said – police formed a line on the field. One had an AR-15 assault-type rifle, he said. Another announced on a bullhorn that they had a negotiator, and asked for five people to step forward.
"My daughter and I went, along with three others, and we all took turns speaking," the 61-year-old said. The officer assured the team that they weren't setting a trap, and said the crowd, which included at least one elementary school-aged child, would have 10 minutes to clear the field – or "we will arrest you for domestic terrorism", Simms said the police told him.
"We told them the musicians had equipment, people had gear and bags, and we'd need at least 15 minutes," Simms said. Then "I went back and told them, 'We're not gonna make it in 15.'"
The group of five spoke to the crowd and helped arrange transportation out of the forest for those who hadn't arrived in their own cars. Organizers on stage urged them to "stay together. They can't arrest us all," Alyssa said.
Eventually, the crowd was able to leave – even as officers in other parts of the forest were attempting to find, and arrest, anyone who had participated in vandalizing the construction equipment.
Simms and his daughter returned to the forest on Monday, to camp for the rest of the week. "I want to take notes about the biology of this forest," he said. "I came here to do that." The Center for Biological Diversity, a national organization, recently issued a statement calling for protecting the forest due to its biological and ecological importance.
Mariah Parker, a union organizer, rapper and former Athens-Clarke county commissioner, went to the forest for the first time on Sunday. She had already been public in her opposition to the Cop City project for months, based on concerns about the increasing militarization of police and mass incarceration, particularly in Black communities.
After spending an afternoon in the forest and at the music festival, she said: "It was so beautiful – seeing people building community. I was feeling excited for what this space could be, what kind of a world we could really have." Parker, who is Black, had met a Black mother and her two children who lives near the forest, other rap artists, and local community gardeners and teachers.
She left at about 5.30pm – right before activists entered the training center construction site. Several hours later, friends in the forest texted her, frightened. "People were hiding in the woods, and not sure how to get out – and they weren't even involved [in the vandalism]," she said.
Several of Parker's friends were Black. For them, she said, "it must have been one of the worst moments of their lives, not being able to leave, or know what would happen. Particularly for Black folks, it must have felt like, 'This is how I'm going to die.'"
'This is how I'm going to die': police swarm activists protesting 'Cop City' in 'week of action' | Atlanta | The Guardian