Florida man serving 400-year sentence freed after being exonerated for robbery
"Sidney Holmes, who served 30 years, released after new inquiry found eyewitness identification was likely 'misidentification'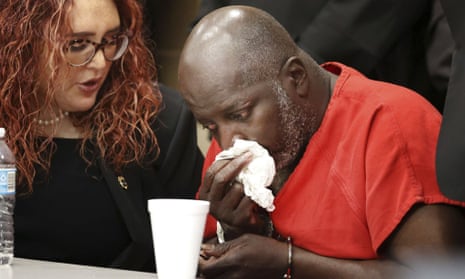 A man who served more than 30 years of a 400-year prison sentence has been freed after he was exonerated for armed robbery charges.
On Monday, 57-year-old Sidney Holmes was released from prison in Fort Lauderdale, Florida, after the state decided to reinvestigate a 1988 armed robbery in which Holmes was accused of being the getaway driver.
Holmes was arrested on 6 October 1988 and then convicted following a jury trial in 1989 for allegedly serving as the driver for two unidentified men who robbed a man and woman at a gunpoint outside the store. The two men also stole the male victim's car, according to the Broward county state attorney, Harold Pryor.
Holmes maintained his innocence and contacted the state attorney's conviction review unit in November 2020.
"Prosecutors with the Conviction Review Unit (CRU) determined that Holmes had a plausible claim of innocence because of how he became a suspect and because of the precarious eyewitness identification that was the principal evidence against him at trial," Pryor said.
Reinvestigation by the CRU found that eyewitness identification of Holmes was probably a "misidentification" partially due to photo and live lineup practices that were commonly used by law enforcement at the time, which Pryor described as "scientifically unreliable".
Part of the misidentification included a civilian investigation launched by the brother of one of the victims which was based on certain similarities between his "extremely common Oldsmobile and the car used by the robbers, [which] overlooked differences between the two cars and was likely a misidentification of the vehicle", said Pryor.
He went on to add that there was no evidence tying Holmes to the robber, aside from the incorrect identification of him as a suspect. In addition to both victims telling the CRU investigation that they believe Holmes should be released from prison, the Broward sheriff's office deputies who performed the original investigation "expressed shock" that Holmes was sentenced to and had served so much time in prison."
Florida man serving 400-year sentence freed after being exonerated for robbery | Florida | The Guardian