"Florida's ban on mask mandates came under increasing scrutiny from public health officials on Sunday as the surging Delta variant pushed new daily cases of Covid-19 in the state to a record high.
The 21,683 new cases reported on Saturday was Florida's highest one-day total since the start of the pandemic. It came a day after Ron DeSantis signed an executive order prohibiting school districts from requiring staff and students to wear masks.
On Sunday, the state broke its previous record for hospitalisations, also set more than a year ago.
Dr Francis Collins, director of the National Institutes of Health (NIH), told CNN's State of the Union he was baffled by the prohibition on requiring masks in schools, the latest in a series of autocratic moves by DeSantis including outlawing vaccine passports and stripping local authorities of the power to issue restrictions or mandates.
"I don't understand the ban. Certainly this seems like something local officials ought to be able to decide based on their community's circumstance," Collins said.
"We do know that [children] are capable of getting pretty sick, we've lost about 400 children who have died from Covid-19 since this all started, and kids can also get long Covid where they ended up months later with difficulties with brain fog, and fatigue that interferes with their school performance.
"So this is not to be just dismissed as a zero risk. Kids also live in homes, are related to people in those homes, who are perhaps immunosuppressed. They could bring home the virus and cause bad outcomes."
Also on Sunday, Dr Anthony Fauci, the chief White House medical adviser, took issue with the portrayal by DeSantis, a prominent Trump ally and potential Republican presidential nominee in 2024, that the ban was a protection of individual freedoms.
"The federal government has no right to tell parents that in order for their kids to attend school in person they must be forced to wear a mask all day, every day," DeSantis said on Friday.
Fauci, who has clashed publicly with DeSantis, told CBS's Face the Nation wearing masks to combat Covid was a "responsibility to society" and that data from the Centers for Disease Control and Prevention (CDC) and the American Academy of Pediatrics supported masks in schools.
"You understand people feeling that they have the individual right to make their own decisions, and I respect that for sure, but the issue is, if you're going to be part of the transmission chain to someone else, then your decision is impacting someone else," Fauci said.
"It's not only impacting you, and you've got to think about it that you are a member of society and you have a responsibility."
Vaccinated people can carry high levels of the virus and transmit the infection to the unvaccinated, data that prompted the CDC to amend guidance and recommend the vaccinated wear masks indoors in areas where transmission and infection rates are high.
"If you get breakthrough infections in individuals who are vaccinated and they don't spread at all to anybody else you would not worry," Fauci said. "If they went home to a vulnerable person in the household, children or an elderly person, there wouldn't be any issue.
"But we know now they can transmit when they get breakthrough infections, even though they have minimal symptoms or no symptoms. We know they can do it. We know the mechanistic reason for it is that the level of viruses is high, so you want to make sure they don't get infected. That's the fundamental basis for the CDC modifying their guidelines."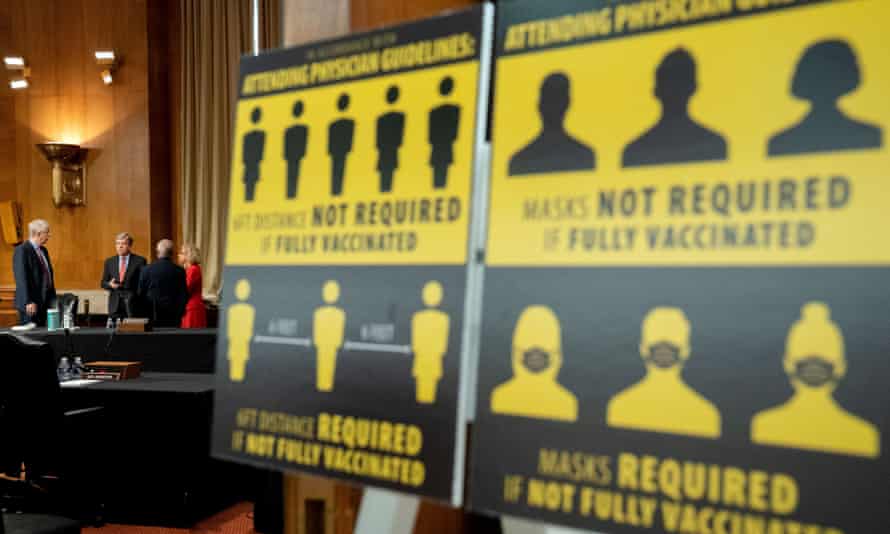 On ABC's This Week, Fauci said he saw no need for a return to lockdowns, but said: "We're looking to some pain and suffering in the future because we're seeing the cases go up, which is the reason why we keep saying over and over again, the solution to this is get vaccinated and this would not be happening."
As the highly contagious Delta variant spreads, Florida has become the new US epicenter of the virus, accounting for about one-fifth of new cases. The spike was a substantial leap from 17,093 the day before and surpassed the previous high, 19,334, set in January before vaccines became widely available.
Courthouses, theme parks and numerous businesses are again requiring the public to wear masks indoors. Disney World added a requirement that workers must be vaccinated; Universal Orlando Resort said all workers have to be masked indoors and that guests should follow CDC guidance.
Florida ranks about halfway in vaccinations, with 48.8% of residents over 12 fully vaccinated and 57.5% having received at least one dose.
DeSantis has urged residents to get vaccinated but has mocked CDC guidance on masking and dismissed the surge as "seasonal".
Hospitals say they are being overwhelmed by admissions mostly of younger unvaccinated patients. Over the last week, 409 Floridians have died of Covid-19, with the total above 39,000.
The previous record for Covid hospitalisations in Florida was set on 23 July 2020. Florida then had 10,170, according to the Florida Hospital Association. The state ileads the US in per capita hospitalisations. In the past week, it has averaged 1,525 adult and 35 pediatric hospitalisations a day.
Collins also noted that other states including Louisiana, Missouri and Tennessee were experiencing significant upticks in infections, saying the virus was "having a pretty big party in the middle of the country".
He told Fox News Sunday: "We are all determined to avoid lockdowns but if we're going to be able to continue, whether in business or in school, to do things that we all really value, putting the mask on is the best way to ensure that things don't get worse. It seems like a sacrifice worth making.
"We've made a lot of progress here compared to where we were a year ago, we just don't want to do silly things to cause the Delta virus to come back even stronger."