'I'm not wanted': Florida universities hit by brain drain as academics flee
"Ron DeSantis's slew of laws attacking teaching of race and gender issues sees state's colleges struggle to fill faculty posts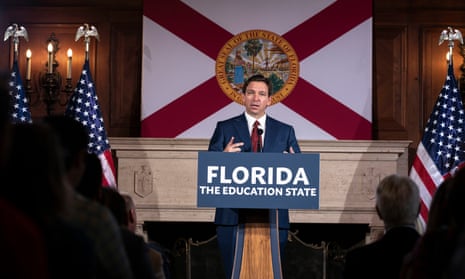 With the start of the 2023-24 academic year only six weeks away, senior officials at New College of Florida (NCF) made a startling announcement in mid-July: 36 of the small honors college's approximately 100 full-time teaching positions were vacant. The provost, Bradley Thiessen, described the number of faculty openings as "ridiculously high", and the disclosure was the latest evidence of a brain drain afflicting colleges and universities throughout the Sunshine state.
Governor Ron DeSantis opened 2023 with the appointment of six political allies to the college's 13-member board of trustees who vowed to drastically alter the supposedly "woke"-friendly learning environment on its Sarasota campus. At its first meeting in late January, the revamped panel voted to fire the college president, Patricia Okker, without cause and appoint a former Republican state legislator and education commissioner in her place.
Over the ensuing weeks, board members have dismissed the college's head librarian and director of diversity programs and denied tenure to five professors who had been recommended for approval.
In a statement given to 10 Tampa Bay about faculty vacancies that was issued earlier this month, NCF officials said that six of the openings were caused by staff resignations and one-quarter of the faculty member departures "followed the changes in the New College board of trustees". One of those resignations was submitted by Liz Leininger, an associate professor of neurobiology who says she started looking for an exit strategy as soon as she learned about the DeSantis appointments in the first week of 2023.
The 40-year-old scientist joined the New College faculty in 2017, drawn by the opportunities of living near her ageing parents on Florida's Gulf coast and working closely with undergraduates at a relatively small school where total student enrollment hovers around 700. But as the Republican-controlled Florida legislature passed a series of bills over the last two years that sought to curtail academic freedom and render a professor's tenure subject to review at any time, Leininger witnessed first-hand the devastating effects of the new laws on her colleagues' morale.
"All of the legislation surrounding higher education in Florida is chilling and terrifying," said Leininger, who is rejoining the biology department at St Mary's College in Maryland this fall where she had been teaching before moving to central Florida. "Imagine scientists who are studying climate change, imagine an executive branch that denies climate change – they could use these laws to intimidate or dismiss those scientists."
The new laws have introduced a ban on the funding of diversity, equity and inclusion programs at Florida's public colleges and universities, withdrawn a right to arbitration formerly guaranteed to faculty members who have been denied tenure or face dismissal, and prohibited the teaching of critical race theory, which contends that inherent racial bias pervades many laws and institutions in western society, among other changes.
In the face of that and other legislation backed by DeSantis and Republican lawmakers that has rolled back the rights of Florida's LGBTQ+ community, many scholars across the state are taking early retirement, voting with their feet by accepting job offers outside Florida or simply throwing in the towel with a letter of resignation.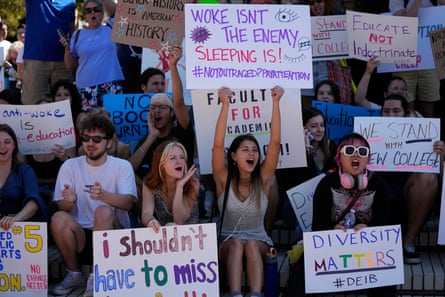 Hard figures for turnover rates will not be available until later this year, and none of the other 11 state-run universities are expected to match New College's exceptionally high percentage of faculty vacancies.
A spokesperson for the office of State University System chancellor, Ray Rodrigues, issued a statement asserting that the "State University System of Florida has not received any concerns from our member institutions indicating turnover this year has been any higher than previous years. Turnover occurs every year."
But Andrew Gothard, the state-level president of the United Faculty of Florida labor union, predicts a loss of between 20 and 30% of faculty members at some universities during the upcoming academic year in comparison with 2022-23, which would signify a marked increase in annual turnover rates that traditionally have stood at 10% or less.
James Pascoe moved to the Gainesville campus of the University of Florida in 2018, the same year that DeSantis was first elected governor. Three years later, the Dallas native started looking for jobs elsewhere when new disclosure requirements made it more difficult for Pascoe to apply for grants. An unsuccessful attempt by the DeSantis administration to prohibit three University of Florida colleagues from testifying as expert witnesses in a voting rights case raised more alarm bells in Pascoe's mind.
Then came the passage of legislation in March 2022 that banned the discussion of gender identity and sexuality with elementary school students between kindergarten and the third grade. Pascoe and his male partner began to worry about their future eligibility for adopting children in an environment that was becoming increasingly hostile to gay couples in their judgment.
"It was becoming clear that the university was becoming politicized," the 33-year-old assistant professor of mathematics said. "When I was waiting to hear back on job applications, they started passing all these vaguely anti-gay, anti-LGBTQ+ laws. The state didn't seem to be a good place for us to live in any more."
In the summer of 2022, Pascoe accepted a comparable position at Drexel University in Philadelphia. His partner followed suit by joining the biology department at Haverford College in a nearby suburb.
The prevailing political climate in Florida has complicated efforts to recruit qualified scholars from outside the state to fill some vacancies. Kenneth Nunn served on a number of appointment committees during the more than 30 years he spent on the faculty of the University of Florida's law school. He said the task of persuading highly qualified applicants of color to move to Gainesville has never been more difficult under a governor who, earlier this year, prohibited a new advanced placement course in African American studies from being taught in high schools.
DeSantis came under renewed criticism this month when the state department of education issued guidelines recommending that middle school students be taught about the skills slaves acquired "for their personal benefit" during their lifetimes in bondage.
"Florida is toxic," noted Nunn, one of the few Black members of the law school faculty who says he chose to retire last January in part because of the legislated ban on the teaching of critical race theory. "It has been many years since we last hired an entry-level African American faculty member. They're just not interested in being in a place where something with the stature of critical race theory is being denigrated and attacked."
The 65-year-old Nunn will be teaching law in the fall in Washington DC as a visiting professor at Howard University, one of the nation's leading historically Black colleges and universities.
"I could have stayed in a place where I'm not wanted and tough it out," he adds. "Or I could retire and look for work elsewhere."
In the end, Nunn says, concerns about his professional career and even his own physical safety made that decision a relatively easy one."
'I'm not wanted': Florida universities hit by brain drain as academics flee | Florida | The Guardian