Alito 'stunningly wrong' that Senate can't impose supreme court ethics rules
"Senator Chris Murphy dismisses Justice Samuel Alito's claims that Senate has 'no authority' to regulate the supreme court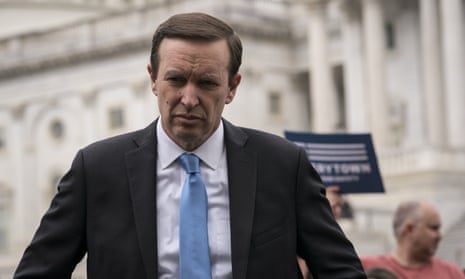 Senator Chris Murphy has dismissed claims by the supreme court justice, Samuel Alito, that the Senate has "no authority" to create a code of conduct for the court as "stunningly wrong".
The Connecticut Democrat made those remarks in an interview on CNN's State of the Union on Sunday, adding that Alito "should know that more than anyone else because his seat on the supreme court exists only because of an act passed by Congress".
"It is Congress that establishes the number of justices on the supreme court," Murphy said. "It is Congress that has passed in the past requirements for justices to disclose certain information, and so it is just wrong on the facts to say that Congress doesn't have anything to do with the rules guiding the supreme court."
He continued: "It is even more disturbing that Alito feels the need to insert himself into a congressional debate."
Murphy's comments came after the Wall Street Journal published an interview with Alito on Friday in which he said: "I know this is a controversial view, but I'm willing to say it. No provision in the constitution gives them the authority to regulate the supreme court – period."
During his interview with State of the Union, Murphy went on to criticize the nine-member supreme court's conservative supermajority. He accused Alito and the court's other conservatives of seeing "themselves as politicians" rather than impartial jurists.
"They just see themselves as a second legislative body that has just as much power and right to impose their political will on the country as Congress does," Murphy said. "They are going to bend the law in order to impose their rightwing view of how the country should work on the rest of us."
In recent months, several of the supreme court's conservative justices have found themselves in ethical controversy after reports emerged of their involvement in real estate transactions with Republican billionaire donors, discreet payments from Republican activists, millions of dollars' worth of luxury trips and thousands of dollars in private school tuition.
As a result, many Democrats have called for tighter ethics rules for the supreme court's justices, who they say lack conduct rules that are comparable to other federal authorities.
Earlier this month, the Senate judiciary committee approved legislation to impose tighter ethics rules on the supreme court.
The legislation – which Republicans have adamantly opposed – has slim possibilities of passing in the Senate because it would require at least nine Republican votes. Nonetheless, Democrats say such a measure is a "crucial first step" in restoring public confidence in the nation's highest court.
Murphy said of the committee-approved measure: "It's why we need to pass this commonsense ethics legislation to at least make sure we know that these guys aren't in bed having their lifestyles paid for by conservative donors, as we have unfortunately seen in these latest revelations."
Alito 'stunningly wrong' that Senate can't impose supreme court ethics rules | US supreme court | The Guardian