"Move dramatically raises stakes for former president as investigation appears to near its conclusion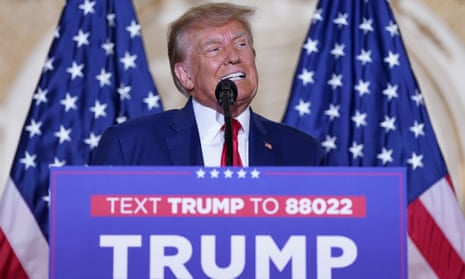 Federal prosecutors formally informed Donald Trump's lawyers last week that the former US president is a target of the criminal investigation examining his retention of national security materials at his Mar-a-Lago resort and obstruction of justice, according to two people briefed on the matter.
The move dramatically raises the stakes for Trump as the investigation appears to near its conclusion after taking evidence before a grand jury in Washington and a previously unknown grand jury in Florida that was impaneled last month.
Trump's lawyers were sent a "target letter" days before they met on Monday with the special counsel Jack Smith leading the Mar-a-Lago documents case and the senior career official in the deputy attorney general's office and argued that prosecutors should not indict the former president in the matter.
Trump has reportedly said he had not been personally informed by the justice department that he was a target when asked directly by a New York Times reporter, but demurred when asked whether his legal team had been told about the designation.
The development, earlier reported by conservative outlet Just the News, comes as prosecutors have evidence of criminal conduct occurring at Mar-a-Lago and decided that any indictments should be charged in the southern district of Florida, where the resort is located, rather than in Washington.
To that end, prosecutors last month started issuing subpoenas to multiple Trump aides that compelled them to testify before a new grand jury in Florida, impaneled around the time that the grand jury in Washington stopped taking new evidence, two people familiar with the matter said.
On Wednesday, former Trump spokesperson Taylor Budowich testified before the Florida grand jury and was asked in part about a statement that Trump drafted in early 2022 that said he had given "everything" back after he returned 15 boxes of materials to the National Archives.
The statement was never issued, Budowich is understood to have confirmed. Several aides to Trump were against releasing the statement because they were not confident that the assertion was accurate, a person close to the former president said.
What charges might emanate from the Florida grand jury remains unclear.
But prosecutors would most probably prefer to bring charges in Washington, where the judges at the US district court are more familiar with handling national security cases – though Florida also has a robust national security section – and the jury pool skews more Democratic.
The impaneling of grand juries has to do with where prosecutors believe a crime was committed. And the most straightforward reason for the Florida grand jury is that prosecutors have developed evidence of criminal activity at Mar-a-Lago, which is in the southern district of Florida.
In this investigation, prosecutors considering charges against Trump for retaining national security material may have concluded from the evidence that he was still president when classified documents were moved to Mar-a-Lago, meaning his "unlawful possession" only started in Florida.
Similarly, if prosecutors have also developed evidence that Trump knew he had retained national security documents after he left office at Mar-a-Lago, for instance by waving them around or showing people, that could present hurdles to charging Espionage Act violations in Washington.

The venue for an obstruction of justice charge is more difficult to deduce, meanwhile, because the courts have provided little guidance about how it should be applied under section 1519 of the US criminal code, which prosecutors listed on the affidavit for Mar-a-Lago search warrant.

Generally, other obstruction statutes hold that the venue depends on where the impeded proceeding was taking place. In the Trump documents investigation, the subpoena last year demanding the return of classified documents was issued in Washington.

The US court of appeals for the DC circuit, however, has ruled in previous cases that the correct venue is where acts of obstruction took place. If prosecutors are considering obstruction charges for Trump's steps to conceal classified documents after the subpoena, Florida could be the venue.
I hope you appreciated this article. Before you move on, I was hoping you would consider taking the step of supporting the Guardian's journalism.
From Elon Musk to Rupert Murdoch, a small number of billionaire owners have a powerful hold on so much of the information that reaches the public about what's happening in the world. The Guardian is different. We have no billionaire owner or shareholders to consider. Our journalism is produced to serve the public interest – not profit motives.
And we avoid the trap that befalls much US media – the tendency, born of a desire to please all sides, to engage in false equivalence in the name of neutrality. While fairness guides everything we do, we know there is a right and a wrong position in the fight against racism and for reproductive justice. When we report on issues like the climate crisis, we're not afraid to name who is responsible. And as a global news organization, we're able to provide a fresh, outsider perspective on US politics – one so often missing from the insular American media bubble.
Around the world, readers can access the Guardian's paywall-free journalism because of our unique reader-supported model. That's because of people like you. Our readers keep us independent, beholden to no outside influence and accessible to everyone – whether they can afford to pay for news, or not."
If you can, please consider supporting the Guardian today. Thank you.
Betsy Reed
Editor, Guardian US