Jan. 6 defendant arrested near Obama's home had guns and 400 rounds of ammunition in his van
"Taylor Taranto has been publicly identified as a participant in the Jan. 6 attack on the U.S. Capitol since August 2021. He was arrested Thursday.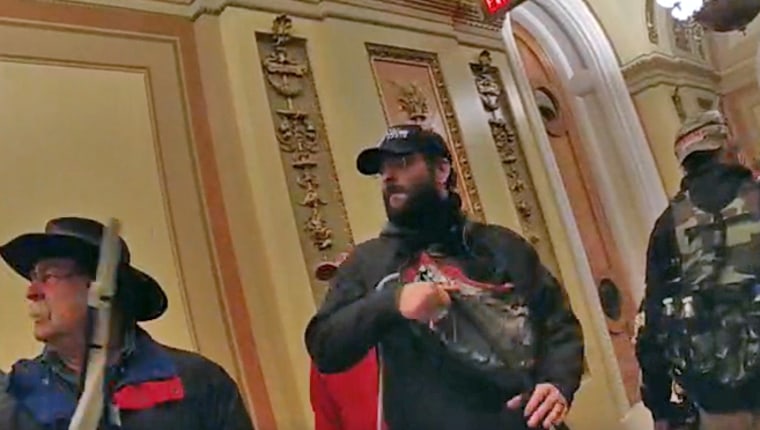 WASHINGTON — A Trump supporter who stormed the Capitol wearing a "Make Space Great Again" hat had two guns and 400 rounds of ammunition in his van when he was arrested Thursday near former President Barack Obama's home, federal authorities said Friday.
A federal prosecutor said in court Friday that Taylor Taranto, a 37-year-old man first identified by online sleuths in August 2021, also had a machete in the van he appeared to be living in. Taranto's van has been parked near the D.C. jail in recent weeks and he has appeared at protests in support of other Jan. 6 defendants, videos on social media show. Noting that he lived in the van, a federal prosecutor said Taranto had "nowhere to go."
Taranto currently faces four misdemeanor counts in connection with Jan. 6, the federal prosecutor said.
The prosecutor said that Taranto has been in Washington to take House Speaker Kevin McCarthy up on his offer of letting Jan. 6 defendants review security footage of the Capitol riot relevant to their cases. Taranto had posted recordings of phone calls he made trying to get access to the footage to his social media.
Taranto has acknowledged entering the Capitol on Jan. 6 in social media posts and questioned why authorities had not arrested him. His lawyer did not immediately respond to a request for comment.
Taranto showed up at Obama's residence on Thursday after former President Donald Trump posted screenshots on his Truth Social platform that featured a purported address for Obama's home in Washington. Taranto's account reposted Trump's post.
"We got these losers surrounded!" Taranto wrote on Telegram yesterday. "See you in hell, Podesta's and Obama's!"
Taranto will be held in custody at least until a detention hearing on Wednesday. Federal Magistrate Judge G. Michael Harvey said Friday he had "some concern" about Taranto's mental stability.
Taranto was identified by members of the Sedition Hunters community after a facial recognition search turned up photos of him posing with a cardboard cutout of Trump at county GOP events in his home state of Washington.
The widow of a Metropolitan Police officer who died by suicide after defending the Capitol on Jan. 6 has filed a lawsuit against Taranto and another man, David Walls-Kaufman, alleging they played a role in his death. Both men have denied involvement in Officer Jeffrey Smith's death. Smith's body cam footage appears to show that he was also struck with a flying metal object later in the evening, hours after he was part of a scuffle involving Walls-Kaufman and Taranto.
NBC News spotted Taranto at Walls-Kaufman's sentencing earlier this month, where he confirmed his full name to court security officials who spoke to him after he used his cell phone in the courtroom in violation of court rules.
More than 1,000 people have been charged in connection with the Jan. 6 attack, which involved more than 3,000 people. Taranto was one of hundreds of Jan. 6 participants who have been identified by online sleuths but had not been charged."
Jan. 6 defendant arrested near Obama's home had guns and 400 rounds of ammunition in his van