"After 16 South Americans were abandoned outside a church on Friday, another flight of 20 migrants arrived on Monday morning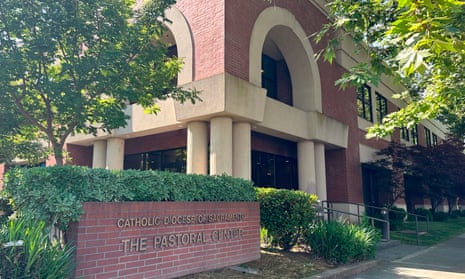 For the second time in four days, Florida picked up people seeking asylum and took them by private jet to Sacramento at taxpayer expense, California officials said on Monday after another flight arrived at a local airport.
California's Democratic governor, Gavin Newsom, on Monday branded his rightwing Republican Florida counterpart, Ron DeSantis, a "small, pathetic man", and appeared to threaten kidnapping charges after the first incident in which a group of migrants was dumped at a Sacramento church.
Rob Bonta, California's attorney general, said in a statement that 16 South Americans abandoned outside the Roman Catholic Diocese of Sacramento on Friday were "in possession of documentation purporting to be from the state of Florida", and may have been duped into boarding charter flights via New Mexico after entering the US in Texas. On Monday morning, a second flight of 20 migrants arrived in the state's capital.
The newest arrivals remained at the airport for a couple of hours and were fed before being transported to a "religious institution", said Kim Nava, a Sacramento county spokesperson.
"Our county social workers are en route and are going to assess all those folks, make sure they have the services and support that they need," Nava said.
The episode has parallels to what critics called a similar "soulless" stunt orchestrated by DeSantis last year in which his administration abandoned several dozen mostly Venezuelan migrants in Martha's Vineyard.
Newsom, in a tweet posted Monday lunchtime directed at DeSantis, said: "You small, pathetic man. This isn't Martha's Vineyard. Kidnapping charges?" and linked to a section of California's penal code stating anybody who "abducts or takes by force or fraud" a person found within the state "is guilty of kidnapping".
Bonta, meanwhile, also said Florida was guilty of "state-sanctioned kidnapping" if it was found to be behind the flights. He told the New York Times the migrants showed documents to California authorities that indicated their travel had been administered by the Florida division of emergency management and its contractor, Vertol Systems Company. Vertol Systems is the same contractor hired last year by Florida's department of emergency management to move migrants from Texas to Massachusetts for $1.6m.
"While we continue to collect evidence, I want to say this very clearly: state-sanctioned kidnapping is not a public policy choice, it is immoral and disgusting," Bonta said in the statement.
The flight was operated by Berry Aviation, an active US defense contractor, according to flight tracking data on FlightRadar24. When reached on the phone, the company declined to comment. Acorn Growth Companies, an aerospace investment firm, which owns Berry Aviation, did not answer calls.
Acorn's managing partner, Rick Nagel of Oklahoma, is a major Republican fundraiser. He was the campaign treasurer for congressman Tom Cole, who chairs the House rules committee. Cole is a former head of the Republican National Congressional Committee and a fervent backer of Donald Trump's anti-immigration policies.
Lawyers for the migrants caught up in DeSantis's stunt last September were on the ground in Sacramento on Monday, and say the circumstances are nearly identical, with the group having been promised accommodation, jobs and clothing that never materialized, and with no advance notice to social services.
"We're trying to establish what exactly they were told when they boarded the flights," said Oren Sellstrom, litigation director of Boston-based Lawyers for Civil Rights.
"This kind of conduct is reprehensible, morally repugnant and also illegal. To the extent the individuals flown to California had the same kind of fraud and misrepresentation visited upon them that we saw with our Martha's Vineyard clients, we fully intend to hold Governor DeSantis and his co-conspirators accountable in a court of law."
The community group Sacramento area congregations together (ACT) has been assisting the migrants, who are mostly Colombian and Venezuelan, with immediate needs. Cecilia Flores, spokesperson for ACT, said the group was taken to the church by bus and dumped there.
"They started out, 'What city is this? What state are we in?'" Flores told CNN.
"According to them, they they got off of the bus, the person who was driving rang the doorbell of the building and told them they would be right back, and the bus pulled away and never came back.
"One of the migrants attempted to reach them because they did have a contact number. They said that the person told them they'll be right there to get you, never specifying who was coming to get them. They continued to try to reach this person [but] their cellphone no longer was working."
The allegation of deceit mirrors that of the Martha's Vineyard episode, in which a former US army medic, Perla Huerta, was allegedly hired to lure migrants onto planes in Texas chartered by the DeSantis administration to protest Joe Biden's immigration policies.
According to several of the migrants, Huerta showed up at a McDonald's in San Antonio, offering gift cards and promising shelter and jobs in Boston, before the group was dumped without notice in the affluent community.
Lawyers for the migrants subsequently filed a lawsuit.
Rightwinger DeSantis, the leading challenger to Trump for the Republican 2024 presidential nomination, has ramped up his anti-immigrant rhetoric in recent months, and earlier this year persuaded the Florida legislature to approve an expansion to his "unauthorized alien transport program" to Democrat-led cities and states.
DeSantis's media team did not respond to a request from the Guardian for comment.
Newsom's tweet on Monday is not the first time the Democratic governor has attacked DeSantis. Last July, while running for re-election, Newsom aired television ads in Florida urging residents to stand up to DeSantis's attacks on freedom or consider moving to California.
Their feud reignited in April when Newson decried efforts to reshape Florida's higher education system into a more conservative model, accusing DeSantis during a visit to his state of "weakness masquerading as strength across the board".
Erin McCormick and agencies contributed to this report
I hope you appreciated this article. Before you move on, I was hoping you would consider taking the step of supporting the Guardian's journalism.
From Elon Musk to Rupert Murdoch, a small number of billionaire owners have a powerful hold on so much of the information that reaches the public about what's happening in the world. The Guardian is different. We have no billionaire owner or shareholders to consider. Our journalism is produced to serve the public interest – not profit motives."