"Israel's military spokesperson says army is 'awaiting political instruction'; Gaza's health authority says 5,791 Palestinians have died
The Israeli military spokesperson Daniel Hagari said on Tuesday that the military was "ready and determined" for the next stage in the war and was awaiting political instruction.
Reuters reports that he said Israel was learning from US experience in the Middle East but "our war is on our borders, not thousands of miles from Israel", and he added that he was expecting weeks of fighting ahead.
Hagari said Egypt was playing a key role in negotiations for the release of hostages from Gaza, which he said was a top priority for Israel.
Al Jazeera reports that Tamara Alrifai of the UN Palestine refugee relief agency UNRWA has described the aid delivered to the Gaza Strip as a drop in the ocean.
Just 54 trucks with relief supplies are reported to have crossed into Gaza since Saturday. Alrifai said urgently needed fuel was not supplied, and that some of the aid sent in – rice and lentils – is useless because people don't have clean water or fuel to cook them.
Earlier on social media UNRWA posted that "An unprecedented catastrophe is unfolding before our eyes. Gaza is being strangled and the world seems to have lost its humanity."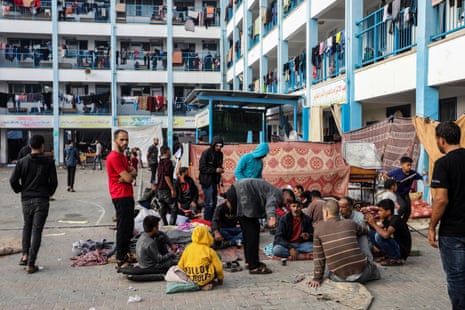 The latest piece in our diary series from inside Gaza has just been published, written by Ziad, a 35-year-old Palestinian. Here is an excerpt:
I am terrified, not because of what is happening around us, but because I am getting used to it. My lost appetite is coming back to me. Now, under the bombing, I think about what we will have for lunch.
I am thinking about what to do tomorrow and the day after tomorrow and after a week, considering my current situation to be the only situation there is. I am used to the lack of privacy, the lack of high hygiene standards, the lack of movement and the lack of feeling safe.
What is going on? Is the abnormal becoming the normal? Is that all it takes? Two weeks of misery and I start getting used to it? It is like getting used to living in darkness and forgetting about all the other colours. Can't I think of one colour to look forward to seeing?
You can read the full diary entry from Ziad here: Gaza diary part eight – 'I am terrified that I'm getting used to what is happening'
Here is a video report from the press conference in a Tel Aviv hospital where Yocheved Lifshitz described her ordeal of being captured by Hamas. Speaking in Hebrew, which her daughter translated in English, Lifshitz told reporters she had "been through hell" after being captured by Hamas fighters on motorbikes and beaten with sticks and forced to walk. She went on to describe conditions in the tunnels where she was held, where she was treated "more gently".
Reuters has a quick snap that the UK prime minister's office has revised the number of British nationals known to have been caught up in the Hamas attack inside Israel on 7 October. The figures are now put at 12 people killed and five missing.
Family members of those believed to be kidnapped held a press briefing at the Israeli embassy in London earlier.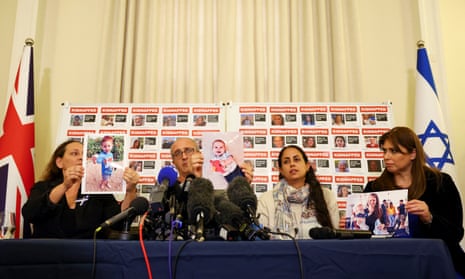 Death toll in Gaza from Israeli airstrikes rises to 5,791 Palestinians according to Hamas-run health ministry
At least 5,791 Palestinians have been killed in Israeli strikes on Gaza since 7 October, according to the Hamas-run Gaza health ministry.
It said the number included 2,360 children, and it said 704 Palestinians had been killed in the previous 24 hours alone, Reuters reports.
The claims have not been independently verified.
The Israel Defence Forces spokesperson Daniel Hagari has posted to social media to say Israel is attempting to contact residents in Gaza in order for them to provide information about the location of hostages held by Hamas.
He said the message being delivered was: "If you want a better future for you and your child, take action and give us as soon as possible solid and useful information regarding the abductees in your area. The Israeli army assures you that it will put forth maximum effort to provide you with security and your home, as well as a monetary reward. We guarantee you complete confidentiality."
Israel's air force has said it killed someone in Lebanon who was trying to launch a rocket into northern Israel.
It has been a very busy day for press conferences. As well as Emmanuel Macron's media appearances with first Isaac Herzog and then Benjamin Netanyahu in Jerusalem, we have heard from the released hostage Yocheved Lifshitz in Tel Aviv. There is also currently a press briefing at the Israeli embassy in London with family members of British-Israeli kidnap victims. I am monitoring that and will bring you any key lines that emerge.
Benjamin Netanyahu says "everyone will be in danger" if Hamas wins. He describes it as being part of an axis of evil trying to drag civilisation back to the middle ages. He says it is a battle for the heart and soul of the Middle East and the Arab world. "We must have a decisive victory against Hamas", he says.
He threatens "horrible consequences" for Hezbollah in Lebanon if it decides to join the war in a meaningful way.
Emmanuel Macron has said the international community has to avoid escalation of the conflict in the region. He specifically calls on Hezbollah and Iran to act responsibly. He says he proposes that the coalition that fought against Islamic State should fight against Hamas.
Emmanuel Macron has said in Jerusalem that Israel and France are united by the same grief, and called again for the release of all hostages held by Hamas in Gaza. He said terrorism was a common enemy of Israel and France. He said terrorism must be fought without mercy, but with rules.
Benjamin Netanyahu has said in a press briefing alongside Emmanuel Macron that Hamas must be destroyed, and warned that the war may take some time. He said that after it is finished, nobody will live any more "under Hamas tyranny".
The French president, Emmanuel Macron, and the Israeli prime minister, Benjamin Netanyahu, are giving a joint press briefing at the moment. I'll bring you any key lines that emerge.
Here are some of the latest images sent to us over the news wires from Gaza, Israel and beyond.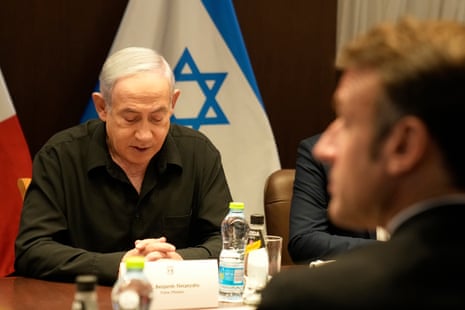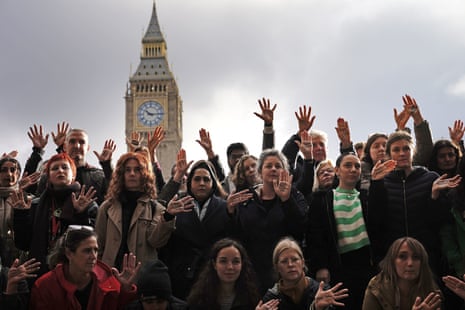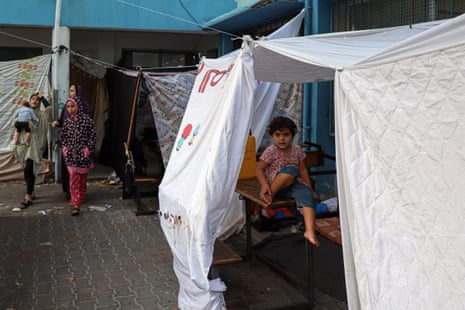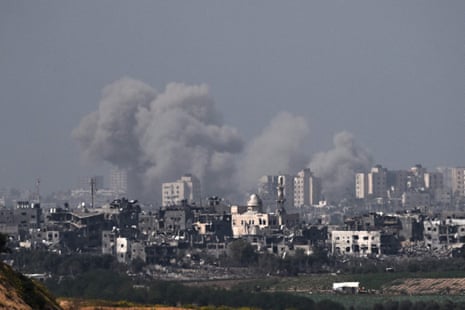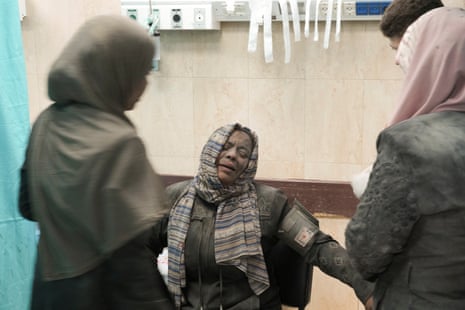 Al Jazeera is carrying an update from Foad Najem, the general manager of el-Wafa hospital in Gaza City. Najem said the hospital entrance and surrounding areas were targeted in an Israeli airstrike for which no prior warning was given. He said they could not evacuate the hospital because most of the patients were in a coma, and they had more patients than they had capacity for.
Here is how Yocheved Lifshitz appeared outside Ichilov hospital in Tel Aviv for her media appearance.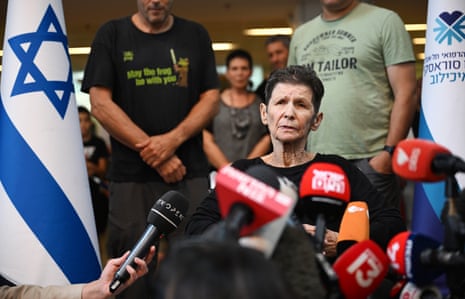 Yocheved Lifschitz has described her ordeal of being captured by Hamas, at a press conference in a Tel Aviv hospital. She is one of two women returned by Hamas yesterday, the third and fourth of the hostages to be freed. Israel said on Monday morning that Hamas was holding 222 people in Gaza.
Lifschitz spoke in Hebrew, with her daughter translating for the benefit of English-speaking media.
She said she had been through hell after being captured by Hamas fighters on motorbikes, and at one point had been beaten with sticks and forced to walk.
However, she described conditions within the tunnels she was taken to very differently, saying that people there treated her "gently" and "looked after our needs". The captives were fed and they slept on mattresses. She said there were doctors and paramedics there to tend to wounds.
She was critical of Israel's military for not taking the threat of Hamas seriously enough before the attack.
Yocheved Lifschitz, who was released by Hamas, has said the story of the hostages will not be over until everybody is back home. The press conference is quite chaotic, with Lifschitz's daughter translating into English after her mother speaks in Hebrew, and lots of journalists shouting questions over the top of each other.
Yocheved Lifschitz has been giving a press conference in Tel Aviv. You can watch it live at the top of the page. You may need to refresh the page for the play button to appear."