Ex-president's attempt to discredit charges with smear tactics weakens the judicial system, former judges say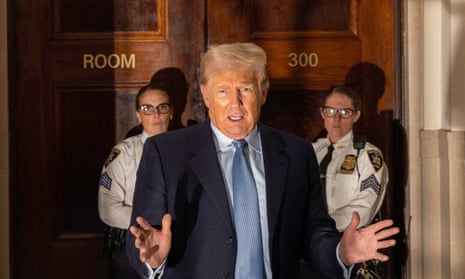 As Donald Trump faces 91 criminal charges including 17 for his multifaceted drive to overturn his 2020 election loss, and a high-stakes civil trial, he has launched a spate of ad hominem attacks on two judges overseeing trials, posing physical risks for the judiciary and weakening the US judicial system, say former judges and legal experts.
Rising concerns about Trump's attacks on judges and prosecutors were underscored this month when a federal judge in Washington DC and a state judge in New York issued tailored gag orders to curb Trump's public tirades.
"Trump's attacks on judges poison the civil atmosphere and make physical attacks … more likely," said the retired Massachusetts judge and Harvard Law School lecturer Nancy Gertner. "Trump is challenging the very role of judges."
Meanwhile, Trump's lawyers have filed multiple motions to delay his trial on charges of mishandling classified documents until after the 2024 election, a major goal for Trump as he runs again for president and paints the numerous charges he faces as political vendettas by Democrats to energize his base and raise funds.
Legal experts say Trump's tactics are unlikely to quash the criminal and civil charges from federal and state prosecutors in New York, Washington DC, Georgia and Florida, but that the former president's strategy is to delay some trials with court motions, as he mounts incendiary attacks against judges and prosecutors that could disrupt the judicial system.
To date, Trump's verbal assaults on judges seem to echo harsh personal attacks he has made against the special counsel Jack Smith, who Trump has labeled "deranged", "crooked" and a "thug", after Smith brought two separate cases of federal charges against him.
In August Trump blasted Tanya Chutkan, the Washington DC judge overseeing the four-count election interference charges brought by Smith, on his Truth Social platform. He called her "highly partisan" and "VERY BIASED and UNFAIR", only days after she told him not to make incendiary comments about the case.
Trump's attacks on judges have also overlapped with some violent threats against them. Chutkan in August received a letter from a woman in Texas threatening to kill her, which led to the woman's arrest.
On 16 October Chuktan held a hearing to weigh imposing a limited gag order on Trump to curb attacks on potential witnesses as well as court officials and prosecutors for his trial next March.
Prosecutors noted with concern that Trump used Truth Social to attack the retired general Mark Milley, the ex-chairman of the joint chiefs of staff and a likely witness, who Trump darkly suggested might deserve being put to death.
Despite heated warnings from Trump lawyers that any gag order would infringe on his first amendment rights and be appealed, Chutkan issued a limited gag order that restricts the former president from "publicly attacking" witnesses, prosecutors or court staff involved in the federal case accusing Trump of conspiracy to overturn his 2020 defeat.
Chutkan said Trump can continue to "argue that this prosecution is politically motivated", but he cannot "vilify [the prosecutor] and implicitly encourage violence against public servants who are simply doing their jobs".
Further, the New York judge Arthur Engoron, who is overseeing a trial involving a civil suit by the state attorney general that could lead to $250m in penalties, has ruled that Trump committed bank and insurance fraud, and this month issued a limited gag order on Trump after several attacks against Engoron and his law clerk.
"Personal attacks of any member of my court staff are unacceptable, inappropriate and I will not tolerate them," Engoron said.
Meanwhile, Trump's lawyers have accelerated efforts to portray the multiple federal cases against Trump as sinister political efforts to hurt his presidential campaign. For instance, a filing on 11 October by Trump's lawyer Christopher Kise attacked the timing and motives behind the Smith's two cases against Trump involving charges of election subversion and improper retention of classified documents, both slated to be tried in 2024, as a "reckless effort".
Trump has denounced the federal and civil cases, and said he is innocent of all charges.
Former judges, prosecutors and legal experts have raised alarms about Trump's attacks as he tries to discredit the charges against him by smearing judges.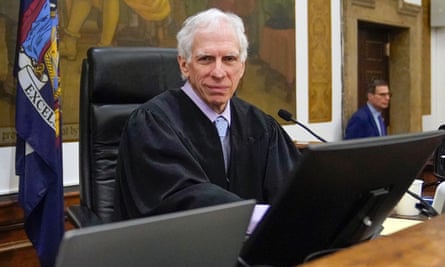 "When you have a former president calling judges corrupt and crooked, it tends to rend the fabric of our society and the judicial system," said the former New York judge Richard Holwell.
Trump's verbal pyrotechnics, ex-judges say, are part of his longtime modus operandi.
"As often with Trump, he's testing the boundaries of what he can get away with by acting in such bizarre ways," said Robert Smith, an ex-New York court of appeals judge. "He's acting like a petulant nine-year-old as he often does."
Likewise, Gertner said: "If it's open season on judges in advance of trials, then we risk undermining the system. You can't have a trial in which the parties have poisoned the media coverage by attacking the judges."
The Democratic congressman Jamie Raskin, who taught constitutional law for more than 25 years, sees Trump's tactics as consistent with his past disdain for legal and democratic norms.
"Trump's relationship to the law and the justice system is straight out of the autocrat's playbook," said Raskin. "He's incapable of seeing judges acting in anything other than completely personal and political ways.
"The law and justice system are just a favor bank in Trump world. He's like a mob boss. For him, a judge is either a lackey in his pocket or his sworn enemy. Trump's legal and political agendas are fused at this point. His whole strategy is to avoid a reckoning with justice before the election."
Earlier in October in a motion that legal experts say could lead to lengthy appeals, Trump's lawyers tried to scuttle his indictment in the election interference case by contending that he should have absolute immunity from any criminal charges linked to his official duties as president.
The absolute immunity motion could result in some delays, but Trump and his lawyers will lose in the end, experts and justice department predict.
"Trump's not interested in winning in court," the ex-federal prosecutor Paul Rosenzweig said. "His arguments don't have any legal legs. They're designed to be catnip for his supporters and to attempt to delay his trials for as long as possible."
Donald Ayer, who was deputy attorney general during the George HW Bush administration, said he expected the courts would be "challenged" going forward, as in Trump's long-shot claim to assert absolute immunity against Smith's criminal election interference charges.
"I think Trump will lose the immunity case but it will lead to delay.
"The courts and the judicial system will likely prove capable of dealing with the distractions and lies that Donald Trump puts forward. But it will take some patience as it has already. Trump is now locked in a battle with the country's judicial process."
In that battle, Trump's personal attacks on judges seem to be part of his campaign strategy, say other justice department veterans.
"I think that Trump's comments about the judges are designed for one thing, to create a story that overshadows the allegations," said Michael Moore, a former Georgia US attorney. "Trump is trying to delegitimize any adverse outcome. It's remarkably similar to his efforts to delegitimize the election before the votes were even counted."
In Raskin's eyes, "Recapturing the presidency in 2024 is Donald Trump's ultimate safe haven from the legal consequences of his prior crimes. He believes it will give him all the immunity he needs for the rest of his life. He's convinced he can pardon himself for all federal crimes he's charged with and avoid all state and civil cases because of his pressing state business.
"And if you think he ever plans to leave office and let the justice system come near him again, you're too innocent to be let out of the house by yourself."