"First there was Digidog, now there is K5

New York City unveiled a new robot designed to help the nation's largest police force keep riders safe in the subways.
Knightscope K5 Security Robot is on lease to the city and will be tasked with patrolling the busiest subway station in the transit system: Times Square Subway Station.
"$9 an hour… $9 an hour. I know you wanted to write how we're wasting money, but I'm sorry I'm taking your thunder away. We're leasing at $9 an hour," Mayor Eric Adams boasted at the robot's unveiling Friday.
The shining new camera on wheels is part of a pilot program that will run for two months, the heads of the MTA and NYPD explained Friday. Officers trained on how to use K5 will accompany the robot through the station. The robot will not be on the platforms.
Even robots get breaks, apparently. Adams says overnight riders can catch a glimpse of K5, who will run between 12 a.m. and 6 a.m.
"It will record video that can be viewed in case of an emergency or a crime. It will not record audio, and it will not use facial recognition. However, the K5 does have a button that connects you immediately to a live person that New Yorkers can utilize 24/7 with questions, concerns or to report an incident if needed," the mayor explained.
Upon completion of the pilot program, Adams says the robot's effectiveness will be examined and the city will decide its best use.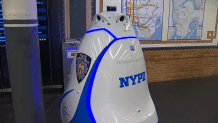 Security cameras already cover the majority of the transit system throughout the boroughs -- so why add another on wheels?
U.S. & World
NYC Transit President said a lot of the station cameras "are hidden or not obvious for criminals. This is a reminder technology is watching folks."
Officials said K5 will not record audio or use facial recognition technology. But police warned anyone who tries to tamper with the 420-pound robot.
"If you come here and damage K5 or commit any crime in the subway system, prepare to be identified and arrested," said Chief of NYPD Transit Michael Kemper.
Police stats show subway crime this year is down 4.5% compared to 2022 and down 8.1% from 2019.
"It's fitting that we are near the theater district, because today K5 is taking center stage: welcome to New York City, K5 and welcome to the NYPD," Kemper added.
The two-month trial of robot K5 begins next month."