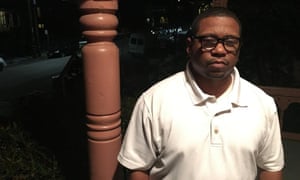 "When Prentiss Mayo showed up to traffic court on 19 October 2015, he tried to explain that he was blind and that his impairment affected his case.
Judge Taylor Culver wasn't having it.
"I don't believe any of it," Culver said repeatedly in his Oakland, California, courtroom before he ordered Mayo to pay a $221 fine on fare evasion charges. The case was quickly closed, but the judge's dismissive remarks about Mayo's blindness didn't stop.
"Sit over there," Culver said.
"Sit over where?" Mayo replied, confused.
Culver laughed. "Man, I like this. You really got style. It's all lies. Sit over there on the right-hand side of the courtroom."
Mayo, 34, was stunned to hear the mockery and asked again where he should go.
"You'll find it," Culver replied.
"I've never been so embarrassed in my whole life," Mayo said in a recent interview, explaining that he lost his vision after a stabbing attack. "It just really felt like he denied my whole experience."
This week, Culver, who some attorneys say is one of the cruelest traffic judges in the state, was accused of "willful misconduct" by the California commission on judicial performance. The case offers a rare window into the inner workings of the controversial traffic courts that have burdened low-income people with insurmountable debts for minor offenses.
California judge who mocked blind man emblematic of failed traffic court system | US news | The Guardian