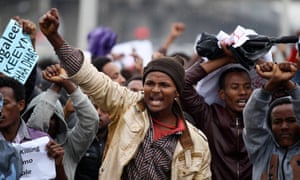 "Dozens of people were shot dead by security forces in protests across Ethiopia's Oromiya and Amhara regions at the weekend, residents and opposition officials have said.
Unrest flared in Oromiya for several months until early this year over plans to allocate farmland surrounding the regional capital for development. Authorities scrapped the scheme in January, but protests flared again over the continued detention of opposition demonstrators.
At the weekend, protesters chanted anti-government slogans and waved dissident flags. Some demanded the release of jailed opposition politicians.
"So far, we have compiled a list of 33 protesters killed by armed security forces that included police and soldiers but I am very sure the list will grow," Mulatu Gemechu, deputy chairman of the opposition Oromo Federalist Congress, said.
Ethiopia's farmers fight devastating drought with land restoration
Read more
The deaths were in at least 10 towns across Oromiya, he said, including Ambo, Dembi Dolo and Nekemt - areas that saw previous rounds of protest."
Dozens shot dead in anti-government protests across Ethiopia says opposition | World news | The Guardian