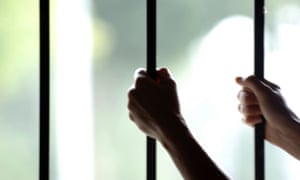 "You can't work in the justice system and not know just by looking that there are racial disparities in the system," said Baz Dreisinger, the creator of the
Prison-to-College Pipeline
program which prepares New York inmates in state prison for higher education.
"Every year we maybe have one white student in our class," Dreisinger said. "Obviously race is not remotely an admissions factor for us, but it's just the reality of what it is."
A
report
published on Tuesday sought to put data behind that reality by analyzing race within state prisons and comparing those findings to the US census.
Black Americans were incarcerated in state prisons at an average rate of 5.1 times that of white Americans, the report said, and in some states that rate was 10 times or more. The US is 63.7% non-Hispanic white, 12.2% black, 8.7% Hispanic white and 0.4% Hispanic black, according to the most recent census.
The research was conducted by Ashley Nellis, a senior research analyst with the Sentencing Project, a Washington, DC-based nonprofit that promotes reforms in criminal justice policy and advocates for alternatives to incarceration.
Nellis found that in five states, the disparity rate was more than double the average. New Jersey had the highest, with a ratio of 12.2 black people to one white person in its prison system, followed by Wisconsin, Iowa, Minnesota and Vermont.
Overall, Oklahoma had the highest rate of black people incarcerated with 2,625 black inmates people per 100,000 residents. Oklahoma is 7.7% black."
Black Americans incarcerated five times more than white people – report | US news | The Guardian